Michelle's Freefrom Maple and Pecan Cake
Corn, gluten, lactose, milk, nightshade, peanut, sesame, soya & wheat free

A lovely moist cake – it tastes delicious and keep well.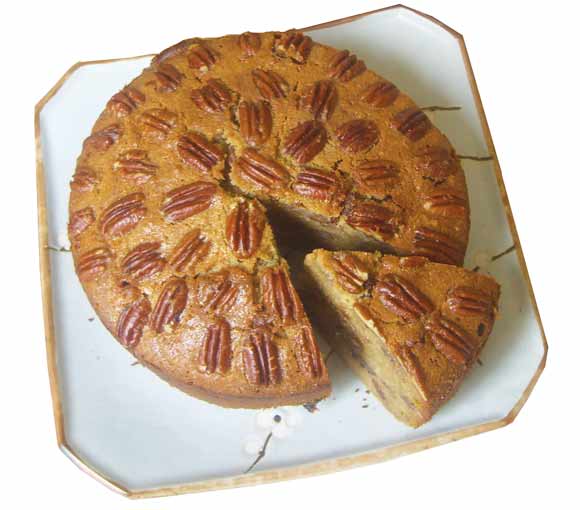 Ingredients
130g / 4½ oz dairy-free spread
50g / 2oz pale muscovado sugar
80g / 3oz maple syrup
3 medium eggs
100g / 3½ oz ground almonds
100g / 3½ oz teff flour (you could also use buckwheat or brown rice flour) sieved with
1 level tsp ground ginger
50g / 2oz sultanas
50g / 2oz pecan nuts plus a handful to decorate the top of the cake

Method
Heat the oven to 180C/350F/Gas mark 4.
Line a small - approx 15cm diameter - cake tin (6" cake pan) with greased greaseproof (waxed) paper.
In a food mixer beat the spread with the sugar and maple syrup till smooth and light.
Remove from the mixer and stir in the eggs alternately with the almonds and the flours.
When well mixed, stir in the sultanas and the 50g (2oz) of pecan nuts.
Spoon the mixture into the cake tin and arrange the remaining nuts in a pattern on the top.
Bake for 1 hour 20 minutes or until a skewer comes out clean.
Remove from the tin and cool on a rack before cutting.

Per Cake
3073cals – 59g protein
220g total fat – 35g sat / 103g mono / 69g poly
228g carbohydrate of which 143g sugar
14g fibre – 1177mg sodium / 2.9g salt
609mg calcium
We have over 800 delicious freefrom recipes on this site all of which are gluten free, most of which are dairy and lactose free and many of which are free of most other allergens. Please go to the following sections to try them out: