Michelle's Freefrom Quick White Loaf
Corn, egg, gluten, lactose, milk, nightshade, nut, peanut, sesame, soya & wheat free
This mixture makes a quite light and pleasant loaf which keeps relatively well and is good for sandwiches.
Makes 1 small loaf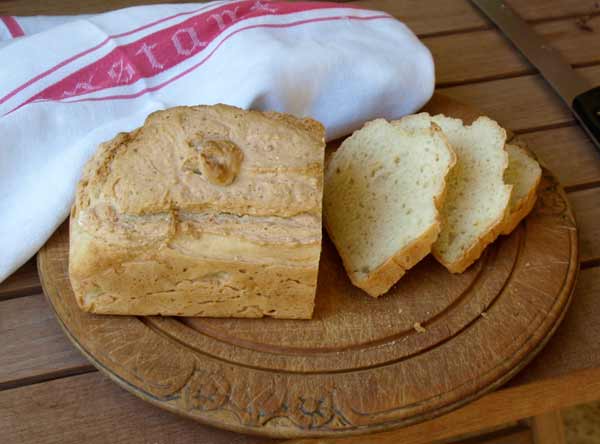 Ingredients
100g / 4 oz rice flour
100g / 4oz potato flour
1 tsp sea salt
1 tsp pale muscovado sugar
1 heaped tsp xanthan gum
7g / ⅓ oz pack quick acting yeast
2 tbsp oil (olive or sunflower)
300ml / 10floz luke warm water
Method
Heat the oven to 200C/400F/Gas mark 6.
Grease a small loaf tin.
In an electric mixer with a beater combine the dry ingredients.
Add the oil and then, gradually, the warm water.
Continue to beat for 1-2 minutes or until you have a smooth dough.
Transfer to the loaf tin (you do not need to knead the dough).
Smooth the top with the back of a wet spoon and transfer to the oven.
Bake for 45 minutes or until the loaf is well risen.
Remove, knock out of the tin and cool on a rack.
Whole loaf:
1245 Calories
28g Protein
27g Fat ( 4g Sat fat, 16g mono, 4g poly)
223g Carbohydrate of which 9g Sugar
17g Fibre, 2031mg Sodium, 5.2g salt
157mg Calcium
Good Source: Nothing
We have over 800 delicious freefrom recipes on this site all of which are gluten free, most of which are dairy and lactose free and many of which are free of most other allergens. Please go to the following sections to try them out: