Michelle's Freefrom Lemon and Walnut Cake
Corn, gluten, lactose, milk, nightshade, peanut, sesame, soya & wheat free

A deliciously lemony cake. Just substitute pumpkin seeds or fruit peel for the walnuts if you are nut allergic.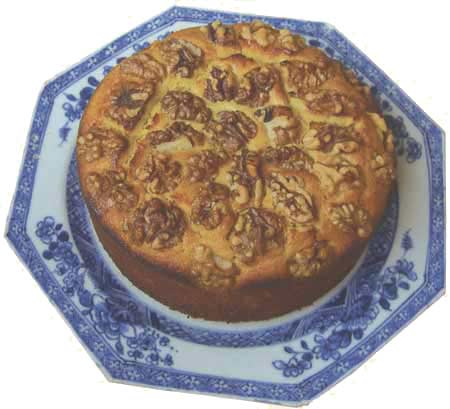 Ingredients
150g / 5½ oz butter or dairy-free spread
150g / 5½ oz light muscovado (raw) sugar
zest of 3 large lemons and juice of 2½
3 eggs
75g / 2½ oz gram/chick pea flour
75g / 2½ oz rice flour
1 heaped tsp gluten/wheat-free baking powder (baking soda)
2 large handfuls of walnuts - or pumpkin seeds - or candied lemon or other fruit peel
Method
Heat the oven to 180C/350F/Gas mark 4.
Beat the butter or spread with the sugar till light and fluffy.
Add the lemon zest.
Sieve the flours with the baking powder (baking soda).
Beat the eggs in one at a time, accompanying each with a spoonful of flour.
Fold in the remaining flour along with the lemon juice.
Grease a loose bottomed cake tin - 15 or 20cm depending on whether you want a flat or a tall cake (6" - 8" cake pan)- or line the tin with greased greaseproof (waxed) paper.
Spoon the mixture into the tin then cover with the walnuts, pumpkins seeds or candied peel.
Bake for 45-50 minutes or until a skewer comes out clean.
Unmould onto a rack.
Per Cake
1811cals - 54g protein
186g total fat - 87g sat / 49g mono / 32g poly
254g carbohydrate of which 156g sugar
11g fibre - 1994mg sodium / 5.7g salt
We have over 800 delicious freefrom recipes on this site all of which are gluten free, most of which are dairy and lactose free and many of which are free of most other allergens. Please go to the following sections to try them out: