Freefrom Lemon Drizzle Cake
Gluten, lactose, milk, nightshade, nut, peanut, sesame, soya & wheat free
A really delicious cake that I originally developed for the Tesco Real Food site - but which seemed a shame not to share with you!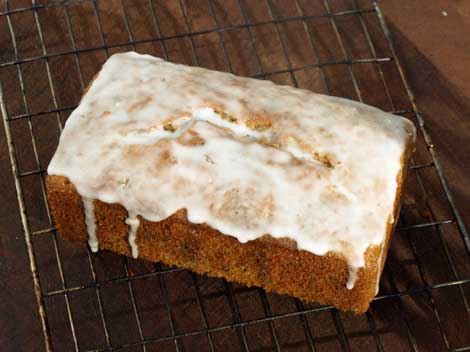 Ingredients

170g / 6oz dairyfree spread, if you want the cake to be dairy free, or butter
170g / 6oz caster sugar or light muscovado sugar – if you use the muscovado the cake will be a deeper tan in colour and rather more nutty in texture and flavour
2 large eggs
170g / 6oz Doves Farm gluten and wheat-free white self-raising flour, sieved
1–2 lemons, depending on size
1 tbps poppy seeds
2 gently heaped tbsp icing sugar
Method
Heat the oven to 180C/350F/Gas mark 4.
Beat the butter or spread with the sugar in an electric mixer for 3–5 minutes or until it is light and fluffy.
Grate the rind from the lemon.
One at a time lightly beat in the eggs with a tablespoon of flour.
Fold in the rest of the flour along with the lemon rind, the poppy seeds and the juice of ½ a lemon.
Line an 18cm / 7inch loaf tin with oiled greaseproof paper.
Spoon the mixture into the tin and tap the cake tin gently a few times on the counter top to flatten out the top.
Bake for 45 minutes or until a skewer comes out clean.
Remove from the oven, allow to cool for a few minutes and then remove from the tin onto a rack and allow to cool completely.
When the cake is cold, put the icing sugar in a small bowl and stir in up to 5 tsp of lemon juice – you want the icing to be quite thick but spreadable.
Spoon it onto the top of the cake and then smooth it out with a spatula dipped in hot water, allowing the drips to run down the side of the cake.
Leave to dry before cutting.
Per cake:
2832 Calories
37g Protein
164g Fat (94g Sat fat,45 g mono, 12g poly)
343g Carbohydrate of which 213g Sugar
5g Fibre, 1247mg Sodium, 3g salt
602mg Calcium
We have over 800 delicious freefrom recipes on this site all of which are gluten free, most of which are dairy and lactose free and many of which are free of most other allergens. Please go to the following sections to try them out: