Coconut Flour Sweet Pancakes
Corn, gluten, lactose, milk, nightshade, nut, peanut, sesame, soya & wheat free
I have been experimenting with Lucy Bee's fair trade organic raw coconut flour. These sweet pancakes turned out really well - lovely and light.
Makes 8 -10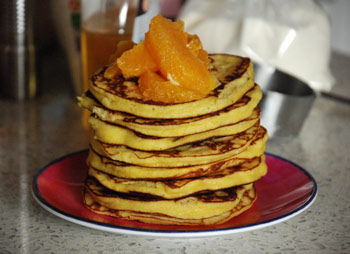 Ingredients
3 eggs
2 tbsp coconut oil / dairy free spread
2 tbsp honey
1 tsp vanilla extract
60ml coconut milk / dairy free milk
30g coconut flour
½ tsp gluten free baking powder
pinch of salt
oil for frying
Method
Beat the eggs, oil, honey, vanilla and milk together until you have a smooth batter.
Add the flour, baking powder and salt to the batter and mix very lightly until just combined.
Heat some oil in a frying pan over a medium heat.
Place a spoonful of the batter into the pan and use the spoon to spread to form a circle of even thickness - my batter was much stiffer than usual pancake batter and didn't spread at all on it's own.
The pancakes don't bubble much so you have to lift the pancake a little after a few minutes to see if the bottom is cooked.
The pancakes are quite soft so you have to be gentle when turning them.
Briefly cook the other side until lightly browned and then serve immediately with toppings of your choice.
We have over 800 delicious freefrom recipes on this site all of which are gluten free, most of which are dairy and lactose free and many of which are free of most other allergens. Please go to the following sections to try them out: