Chocolate Courgette Cake
Corn, gluten, lactose, milk, nightshade, peanut, sesame, soya & wheat free
This is a dark fudgy cake with the courgette adding moisture but disappearing during cooking. Depending on the chocolate you use for the icing, you might want to add a little honey or agave syrup to it. I used Doves Farm flour which has xanthan gum added. If the blend you are using doesn't contain xanthan gum, you will need to add less than ½ tsp for this recipe.
Serves 8-10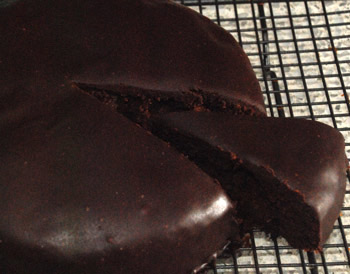 Ingredients
125g self-raising gluten free flour
30g cocoa powder
160g brown sugar
1 tsp molasses / golden syrup
75ml oil (I used rice bran)
1 egg
50ml fruit juice
1 medium courgette, finely grated
100g walnuts
100g dairy free chocolate
50ml dairy free soya / oat / coconut cream
Method
Preheat the oven to 160oC fan / 180oC.
Grease and line the base of a 20cm loose bottom cake tin.
Mix the flour, cocoa powder and sugar together in a large mixing bowl.
Add the molasses, oil, egg and fruit juice.
Beat for a few minutes, ideally with an electric mixer or whisk.
Stir in the courgettes and walnuts and pour into the tin.
Bake for 40 minutes and then test with a skewer that the middle is cooked - mine needed a further 5 minutes.
Leave to cool in the tin for about 10 minutes and then remove and place on a cooling rack.
Melt the chocolate in a bowl over some boiling water or carefully in the microwave.
When it has melted completely and cooled a little, add the cream and beat until smooth.
When the cake has cooled completely, cover with the icing and leave to set.
We have over 800 delicious freefrom recipes on this site all of which are gluten free, most of which are dairy and lactose free and many of which are free of most other allergens. Please go to the following sections to try them out: