Khulood's Freefrom Biscotti
Corn, gluten, lactose, milk, nightshade, peanut, sesame, soya & wheat free
Khulood is my dear Iraqui friend who never arrives to visit without a bag of the most wonderful date cookies – each time slightly different. On this occasion the cookies had been squashed into a flat cake, the perfect shape for cutting into biscotti. So I decided that I would try to reproduce something similar, but freefrom. So, with apologies to Khulood for seriously mangling her recipe......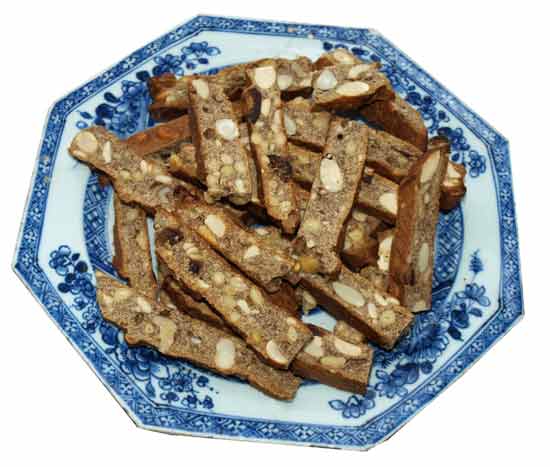 Ingredients

100g rice flour
100 teff flour (if you cannot find teff flour you could use 50g buckwheat and 50g polenta or 100g of a gluten-free flour)
200g broken nuts of your choice (I used walnuts, cashews, hazelnuts and pine nuts)
3 fresh dates, pipped and chopped small
2 tbsp date syrup or dark agave syrup
2 tbps dark tahini
2 eggs
150ml almond milk
Method
Heat the oven to 180C/350F/Gas Mark 4 and oil a piece of foil laid over a baking tray.
Mix all the ingredients thoroughly together and then spread over the foil in a layer approximately 2cm thick - the thickness of your thumb.
Bake for 40 minutes.
Take out of the oven and cool.
Reduce the oven heat to 50C/150F/Gas Mark lowest.
Cut the cake into long thin slices and lay out on a rack.
Dry out in the oven for 3–4 hours, then cool, cut in half and store.
We have over 800 delicious freefrom recipes on this site all of which are gluten free, most of which are dairy and lactose free and many of which are free of most other allergens. Please go to the following sections to try them out: