Raw Cherry and Walnut Brownies
Corn, egg, gluten, lactose, milk, nightshade, peanut, sesame, soya & wheat free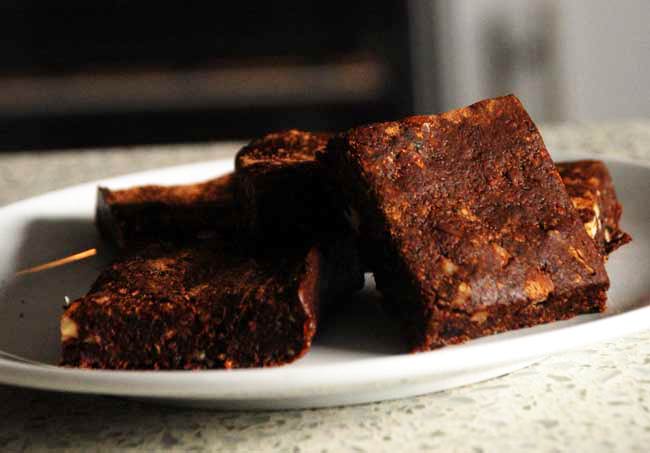 Ingredients
200g cashew nuts
50g cacao powder
100g raisins
100g dates
100g prunes
50g walnuts
50g dried cherries
extra cacao for dusting
Method
If your dates and prunes are on the dry side, soak them in some water for a little while to soften them up.
In a food proccessor, whizz up the cashew nuts until they are relatively fine.
Then add the cacao powder, raisins, dates and prunes and whizz until you have a 'dough'.
Move the dough to a mixing bowl.
Roughly chop the walnuts and kneed into the mixture so they are spread evenly.
Lightly dust the cherries in cacoa to stop them clumping and then kneed them into the
mixture as before.
Line a 25cm square baking tin with baking parchment and dust the bottom with a small amount of cacoa powder.
Press the mixture into the tin as evenly as possible either with you hands or a spoon.
Lightly dusting the top with cacao powder helps reduce the stickiness of the surface while doing this.
Place in the fridge to chill and then cut into 16 squares.
Store in an airtight container.


We have over 800 delicious freefrom recipes on this site all of which are gluten free, most of which are dairy and lactose free and many of which are free of most other allergens. Please go to the following sections to try them out: