Katherine's Freefrom Rhubarb and Orange Cake

Gluten, lactose, milk, nightshade, peanut, sesame, soya & wheat free

Yuumy served cold for tea or warm as a pudding with dairy free custard or ice cream.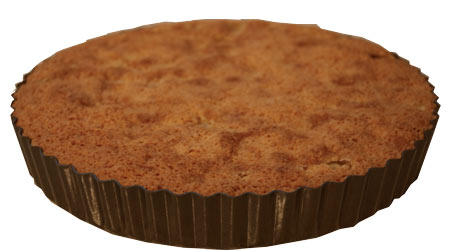 Serves 8 to 10

Ingredients
300–400g / 11–14 oz rhubarb
140g / 5oz + 2 tbsp caster sugar
100ml / 3 fl oz vegetable oil
2 eggs
75g / 3 oz gluten free self-raising flour ( Katherine used Doves Farm)
100g / 4oz ground almonds
½ tsp gluten and wheat-free baking powder
grated zest of 1 orange and juice of half
Method
Cut the rhubarb into 1cm slices and mix with 2 tbsp of sugar.
Preheat the oven to 180C/350F/gas mark 4.
Oil a 23cm/11" loose bottom cake or deep flan tin and line the base with baking parchment.
Whisk the oil, sugar and eggs together until light and full of bubbles.
Use a metal spoon to gently fold in the flour, almonds and baking powder.
Gently stir in the orange zest and juice and the rhubarb along with any juice it has produced.
Pour into the prepared tin and bake for 45 – 50 minutes until lightly browned and firm.
Leave to cool slightly in the tin before removing. Serve warm or cold.


Whole cake:

2384 Calories
46g Protein
143g Fat (19g Sat fat, 97g mono, 18g poly)
245g Carbohydrate of which 186g Sugar
9g Fibre, 708mg Sodium, 1.8g salt
889mg Calcium
We have over 800 delicious freefrom recipes on this site all of which are gluten free, most of which are dairy and lactose free and many of which are free of most other allergens. Please go to the following sections to try them out: