Katherine's Freefrom Seedy, Oaty Flapjacks

Corn, egg, lactose, milk, nightshade, nut, soya & wheat free
Sticky and yummy..... If you are peanut allergic, substitute a different nut butter if you can tolerate other nuts, or a seed butter – obtainable in most good health shops.

Ingredients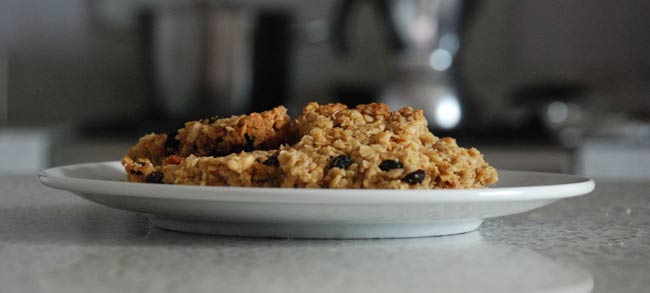 170g / 6 oz dairy free spread
60g / 2½ oz agave nectar
50g / 2 oz peanut or other nut or seed butter
220g / 8 oz oats
1 heaped tbsp currants
1 heaped tbsp sesame seeds
1 heaped tbsp sunflower seeds
Method
Preheat the oven to 180c/Gas 4/350F.
Line a 20cm x 20cm tin (8" x 8" cake pan) with baking parchment.
Melt the spread in a saucepan over a low heat.
Add the agave nectar and peanut butter and stir over the heat until everything has melted.
Remove from the heat and add all the other ingredients.
Spread in the tin with the back of a spoon and bake for 18 minutes until golden brown.
Remove from the oven and wait for 15 minutes before cutting the bars.
When the bars are cool, carefully remove from the tin.
Makes 16 pieces - per piece
Calories 177 Kcals
2.7g Protein
13g Fat (2.6g Sat fat, 4g mono, 5g poly)
4g Carbohydrate of which 3.5g Sugar
1.3g Fibre, 84Sodium, 0.214 g salt
15mg Calcium
We have over 800 delicious freefrom recipes on this site all of which are gluten free, most of which are dairy and lactose free and many of which are free of most other allergens. Please go to the following sections to try them out: