Katherine's Coconut and Chocolate Slices
Corn, gluten, lactose, milk, nightshade, nut, peanut, sesame, soya & wheat free
This recipe is adapted from a slice made by Border Homebake (www.traybakes.com). It takes a bit of time as the chocolate has to chill and solidify twice but the slices are simple to make and worth the wait.
Makes 16

Ingredients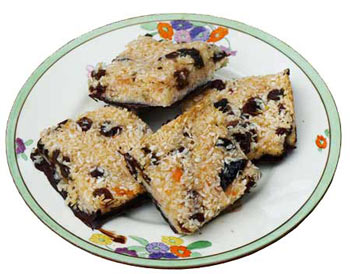 200g / 7 oz dairy-free chocolate
100g / 4oz sweet potato (approx. 1 small one)
100g / 4oz pale muscovado sugar
2 eggs, lightly beaten
200g / 7oz desiccated coconut
200g / 7oz dried fruit (I used prune and raisins)
Method
Line a 20 x 20cm / 8 x 8 inch baking tin with baking parchment.
Melt the chocolate either in a microwave on a low setting or in a bowl placed over a pan of just simmering water.
Once melted, pour into the prepared tin.
Tip the tin to spread the chocolate evenly to cover the base.
Leave somewhere cool for at least an hour until completely set.
Peel and chop the sweet potato.
Cook either in the microwave or boil in a little water until soft.
Drain and puree until completely smooth. Set aside.
Preheat the oven to 140C/275F/Gas Mark 1.
Cream the eggs and sugar together until creamy and light.
Beat in the potato and coconut. Mix in the dried fruit.
Pour into the tin over the set chocolate and spread even with the back of a spoon.
Bake for 25-30 minutes until lightly browned.
Leave to cool in the tin and then chill until the chocolate has set.
Turn out and cut into 16 pieces.
Makes 16 pieces - per piece
213 Calories
3g Protein
12.5g Fat (9g Sat fat, 2g mono, 0.4g poly)
24g Carbohydrate of which 23g Sugar
2.2g Fibre, 35mg Sodium, 0.1g salt
49mg Calcium
We have over 800 delicious freefrom recipes on this site all of which are gluten free, most of which are dairy and lactose free and many of which are free of most other allergens. Please go to the following sections to try them out: