Katherine's Carrot and Orange Breakfast Muffins
Corn, gluten, lactose, milk, nightshade, nut, peanut, sesame, soya & wheat free

These are tangy, fruity, not very sweet and quite substantial – so they would be perfect for breakfast on the go. If you prefer something sweeter simply add more sugar (50g/2 ozs or to taste).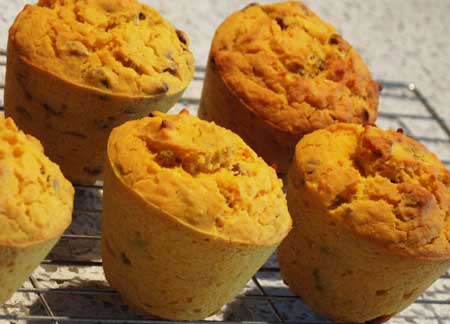 Ingredients
2 oranges
3 eggs
100g / 4 oz caster sugar
250g / 9 oz brown rice flour
2 tsp gluten-free baking powder
½ tsp bicarbonate of soda
pinch of salt
100ml/ 3.5 floz / 3/8 cup rice or other dairy free milk
1 tsp vanilla essence
2 medium carrots, peeled and finely grated
generous handful of sultanas or other dried fruit
generous handful of sunflower seeds or other seeds or chopped nuts
Method
Clean the oranges thoroughly and place in a small saucepan of boiling water.
Simmer for 2 hours, topping up the water level occasionally so the pan doesn't boil dry.
Take the oranges out of the water and let them cool.
Cut into quarters, remove any seeds and whizz to a smooth pulp. The cooked oranges can be stored for a few days in an airtight container in the fridge - either before or after whizzing.
Preheat the oven to 180C/350F/gas mark 4.
Line a muffin tray with 8 cases or lightly grease a 6 hole muffin mould tray.
Beat the eggs and sugar with an electric whisk for a few minutes until the mixture is lovely and light.
Carefully mix in the flour, baking powder, bicarbonate of soda and salt until fully combined.
Loosen the mixture with the milk and gently mix in all the other ingredients.
Once all the ingredients are combined, spoon into the muffin cases or muffin mould.
Cook for 35 minutes if using the muffin cases or 40 minutes for the mould.
Cool on a wire rack and store in an airtight container.
Makes 8 muffins – per muffin:
Calories 260 Kcals
6g Protein
4g Fat (1g Sat fat, 1.5g mono, 0.9g poly)
49g Carbohydrate of which 23g Sugar
2g Fibre, 335g Sodium, 0.8g salt
77mg Calcium
We have over 800 delicious freefrom recipes on this site all of which are gluten free, most of which are dairy and lactose free and many of which are free of most other allergens. Please go to the following sections to try them out: