FreeFrom Strawberry and Mint Cake
Corn, gluten, lactose, milk, nut, peanut, sesame, soya & wheat free
Makes 15 squares

The potatoes become invisible in this light sponge tray bake with a subtle flavour of strawberries and mint.

Ingredients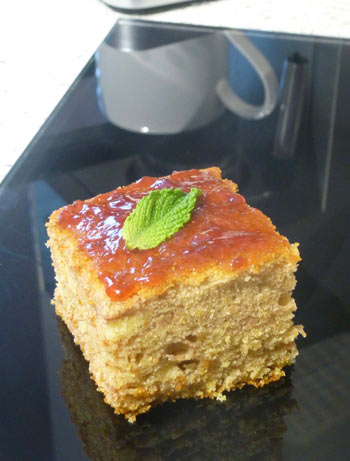 250g potatoes, peeled and chopped
1 tbsp rice or soya milk
200g strawberries
handful of fresh mint leaves
250g dairy free spread
250g caster sugar
3 medium eggs
250g rice flour
4 tsp gluten free baking powder
6 tbsp strawberry jam for the top

Method

Line and grease a 18x28cm deep tin and heat the oven to 180C/350F/Gas mark 4.
Put the potatoes into a saucepan, cover with water and boil until soft. Drain and mash with the milk until they are smooth with no lumps.
Whizz the strawberries and mint together until smooth.
Cream the butter and sugar until pale and creamy. Beat in the eggs one at a time. Add a little of the flour if the mixture curdles.
Gently fold in the flour, baking powder and potatoes.
Pour in the strawberry puree and stir through gently.
Pour the mixture into the tin and bake for 40 minutes until a skewer comes out clean.
Spread the top with jam if liked and leave to cool. Cut into squares.
We have over 800 delicious freefrom recipes on this site all of which are gluten free, most of which are dairy and lactose free and many of which are free of most other allergens. Please go to the following sections to try them out: