FreeFrom Chocolate Prune Torte
Corn, gluten, lactose, milk, nightshade, peanut, sesame & wheat free
This is quite a rich dense torte. You could swap the prunes for any other dried fruit - apricots would be nice. You could also leave the hazelnuts out if you don't fancy a crunch. This is not a sweet cake - add more agave syrup if you prefer a sweeter taste.
Serves 12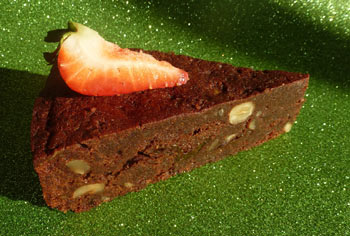 Ingredients
200g dairy free chocolate
200g coconut oil
200g ground almonds
100g toasted hazelnuts
8 tbsp agave syrup
6 eggs separated
100g prunes soaked in Armagnac
Method
Preheat the oven to 150oC / 300oF / gas 2.
Grease and line a 20cm round cake tin with baking parchment.
Gently melt the chocolate and the coconut oil.
Leave the mixture to cool slightly.
Separate the eggs and add the yolks one by one to the chocolate.
Stir in the agave syrup.
Beat the egg whites until they form stiff peaks.
Add a spoon of the egg whites to the chocolate mix to loosen it.
Gently fold the rest of the egg whites into the chocolate until just combined.
Pour the mixture into the cake tin and cook for 45 minutes.
Check the cake is done with a skewer. If it comes out clean the torte is done.
Transfer to a cooling rack.
I tried freezing half and it worked really well.
We have over 800 delicious freefrom recipes on this site all of which are gluten free, most of which are dairy and lactose free and many of which are free of most other allergens. Please go to the following sections to try them out: