Michelle's Freefrom Fig and Apple Cake
Corn, gluten, lactose, milk, nightshade, nut, peanut, sesame, soya & wheat free
This is a really delicious winter cake - and could do duty as a Christmas cake for those who are not too keen on heavy fruit cakes. You can serve it as a tea cake (quite sticky...) or as a dessert - or you can just pick at it every time you pass it in the kitchen.
Serves 8 as a dessert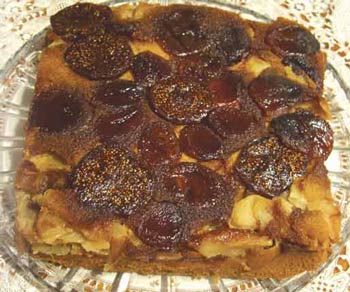 Ingredients
8 soft dried apricots
4 soft dried figs
5 tbsp brandy or fruit juice (apple, cranberry or pomegranate)
1 tbsp palm, rice, agave or maple syrup or molasses
2-4 Bramley cooking apples, depending on size
200g / 7 oz dairy-free spread (we used Pure Organic)
150g / 5½ oz light muscovado sugar (raw sugar)
140g / 5 oz rice flour
60g / 2 oz buckwheat flour
1 tsp gluten-free baking powder (baking soda)
¼ tsp xanthan gum
3 eggs
Method
Soak the apricots and figs in the brandy or juice for 2 hours.
Heat the oven to 180C/350F/Gas mark 4.
Paint the bottom of a round or square cake tin - 20-25cm in diameter (9-10" cake pan) - with whichever syrup you are using. Grease the sides of the tin.
Strain the fruits and reserve the brandy or juice.
Cut the soaked fruits in half, horizontally, and arrange them in a pattern in the base of the tin, remembering that the cake will be turned upside down to serve.
Peel and slice the apples and arrange the slices in one or two layers over the dried fruits.
Beat the butter or spread with the sugar in an electric mixer until light and fluffy.
Sift the flours with the baking powder (baking soda) and xanthan gum.
Break the eggs, one by one, into the butter and sugar mixture accompanying each with a tablespoon of flour.
Mix lightly then fold in the remaining flour along with the reserved brandy or juice.
Carefully spoon the cake mixture over the apples in the tin and smooth the top.
Bake for 50 minutes or until a skewer comes out clean.
Allow to cool slightly, then loosen the sides with a sharp knife and carefully unmould the cake onto a serving platter.
Serve warm or at room temperature by itself or with cream (goat or cow), yogurt (goat, sheep, cow or soya) or ice cream (cow or soya) depending on what you can eat.
465cals - 6g protein
23g total fat - 14g sat / 6g mono / 1g poly
56g carbohydrate of which 35g sugar
3g fibre - 299mg sodium / 0.76g salt
Good Source of: Vitamin B12
We have over 800 delicious freefrom recipes on this site all of which are gluten free, most of which are dairy and lactose free and many of which are free of most other allergens. Please go to the following sections to try them out: