Michelle's Freefrom Egg-free Chocolate Cake
Corn, egg, gluten, lactose, milk, nightshade, nut, peanut, sesame, soya & wheat free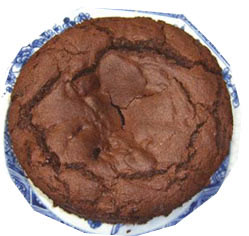 Ingredients
150g / 5½ oz dairy-free spread (we used PURE)
150g / 5½ oz pale muscovado (raw) sugar
3 tbsp gluten-free cocoa powder (we used Green & Blacks)
3 tbsp boiling water
150g / 5½ oz flour - we used Doves Farm strong bread flour with xanthan gum but you could use a low gluten flour such as spelt
4 tsp gluten & wheat-free baking powder (baking soda)
50ml / 2 fl oz of whatever milk you can tolerate (we used oat milk)
100g / 3½ oz undyed glacé cherries - or chopped dried apricots, if you prefer
Method
Heat the oven to 180C/350F/Gas Mark 4.
Beat the butter or spread and sugar in an electric mixer until light and fluffy.
Mix the cocoa powder with the boiling water then beat into the butter mixture.
Sieve the flour with the baking powder (baking soda) and fold into the mixture with the milk and cherries.
Turn into a lined and greased 15cm cake tin (6" cake pan) and bake for 45 minutes.
Remove from the oven and cool on a rack before cutting.
Per Cake
2640cals - 24g protein
132g total fat - 84g sat / 36g mono / 6g poly
354g carbohydrate of which 216g sugar
9g fibre - 3144mg sodium / 7.8g salt
We have over 800 delicious freefrom recipes on this site all of which are gluten free, most of which are dairy and lactose free and many of which are free of most other allergens. Please go to the following sections to try them out: