Gluten-free Donuts with a Chocolate Dippy Sauce
Corn, egg, gluten, lactose, milk, nightshade, nut, peanut, sesame, soya & wheat free
Catherine Rose (of Sweetcheeks and the Printworks Kitchen) cooked her donuts in a demonstration that she did for us last year at Foods Matters Live – along with a delicious pan-fried za'atar seabass with Persian jewelled buckwheat.... You can watch her cooking both in the video below or just move straight on to the recipe for her totally yummy donuts!
Makes around 18 mini donuts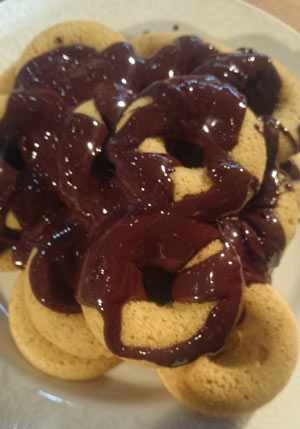 Ingredients
1 cup caster sugar
1 cup rice flour
¼ cup gram flour
½ cup potato flour
¼ cup arrowroot
1 ½ tsp baking powder
½ tsp xanthan gum
½ tsp salt
¼ tsp cinnamon
1/8 tsp baking soda
6 tbsp apple puree
¼ cup vanilla extract
1/3 cup rapeseed oil
½ cup hot water
250g Dark Chocolate
Method
Oven to 180C.
Grease 18 donut tin.
Mix together all dry ingredients.
Add wet ingredients and mix until smooth.
Pour mixture into a piping bag and then cut off the end and pipe into the greased trays.
Pop into the oven for 7 mins; rotate and bake for a further 6 mins.
Once removed from the oven, turn out the donuts to cool on a wire rack.
melt chocolate in a pan slowly stirring throughout. Add a dash of coconut/rapeseed oil to lower the melting point and prevent setting.
Pour chocolate sauce into a bowl to dip donuts in, or smother and eat.
We have over 800 delicious freefrom recipes on this site all of which are gluten free, most of which are dairy and lactose free and many of which are free of most other allergens. Please go to the following sections to try them out: