Doves Farm Gluten-free White Bread with Sundried Tomatoes

Corn, gluten, lactose, nut, peanut, sesame & wheat free; can be lactose and soya free
This recipe is based on that given by Doves Farm for their excellent gluten-free white bread – but we thought we would make it a bit more exotic!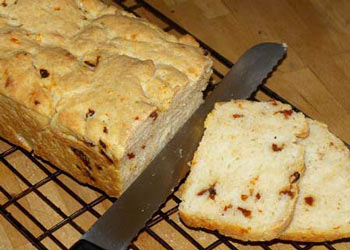 Ingredients
450g/1 lb Doves Farm gluten-free white bread flour blend
generous ½ tsp salt
2 tsps quick yeast
1 tbsp soft muscovado sugar
325ml / 1⅜ cups warm goat, soya or oat milk
1 tsp vinegar
2 eggs
2 tbsp olive oil
4 tbsp oil from a jar of sun-dried tomatoes
40g / 2 oz sun-dried tomatoes cut up very small
(if you cannot find the tomatoes packed in oil use the dried ones, softened for 5 minutes in boiling water, and an extra 4 tbsp of olive oil)
Method
Mix the flour, salt, yeast and sugar.
In a large bowl mix the milk with the vinegar, eggs and 2 tablespoons of the oil, then add the flour mixture and chopped tomatoes and mix well.
Continue to mix while you add the extra flour. It should be a quite sticky dough.
Put the dough in a 1 kilo / 2lb loaf tin, slightly smooth the top and cover lightly with cling film.
Leave in a warm place to rise for an hour.
Meanwhile, heat the oven to 220C/425F/Gas mark 7.
Bake the loaf for 45-50 minutes or till it is hollow when you take it out and tap the bottom.
Cool on a rack.
For the whole loaf
2681 Calories
45g Protein
107g Fat (22g Sat fat, 57g mono, 7.4g poly)
395g Carbohydrate of which 32g Sugar
5g Fibre, 2841mg Sodium, 7.2g salt
402mg Calcium
For more on Doves Farm foods.
We have over 800 delicious freefrom recipes on this site all of which are gluten free, most of which are dairy and lactose free and many of which are free of most other allergens. Please go to the following sections to try them out: