Michelle's Freefrom Coffee and Ground Almond Cake with Coconut and Pecan Icing

Gluten, lactose, milk, nightshade, peanut, sesame, soya & wheat free
A serious coffee cake this – not for the faint-hearted!!

Ingredients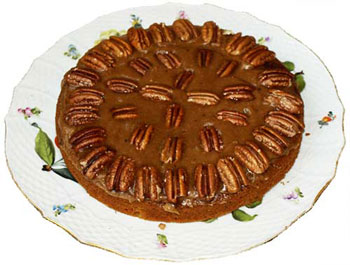 50g / 2 oz dairy-free spread (or coconut oil or butter)
100g / 4 oz pale muscovado sugar
2 shots / 100 ml strong expresso coffee
4 eggs
50g / 2 oz ground almonds
50g / 2 oz rice flour
50g / 2 oz coarse maize flour
2 heaped tsp gluten and wheat free baking powder
icing
200g / 7 oz coconut oil
100g / 4 oz dark muscovado sugar
2 scant tbsp Cointreau, Amaretto, Grand Marnier or strong coffee
approximately 30 pecan nuts
Method
Heat the oven to 180C/350F/Gas Mark 4.
Beat the spread, coconut oil or butter with the sugar until light and creamy.
Beat in the coffee then, one by one, lightly beat in the eggs accompanying each with a spoonful of the flour mix.
Fold in the rest of the flours and baking powder.
Line the base of a 20cm/8inch cake tin with greaseproof paper then spoon in the mix and smooth off.
Bake for 30 minutes or until a skewer comes out clean.
Turn onto a rack and allow to cool completely.
Meanwhile make the icing by beating the coconut oil vigorously with the dark muscovado sugar until creamy then beat in the liqueur or coffee.
When the cake is completely cold, spread the icing over the top and decorate with the pecan nuts.
We have over 800 delicious freefrom recipes on this site all of which are gluten free, most of which are dairy and lactose free and many of which are free of most other allergens. Please go to the following sections to try them out: