Michelle's Freefrom Cinnamon Muffins

Corn, gluten, lactose, milk, nightshade, nut, peanut, sesame, soya & wheat free

A nice easy treat for a Sunday morning.
Ingredients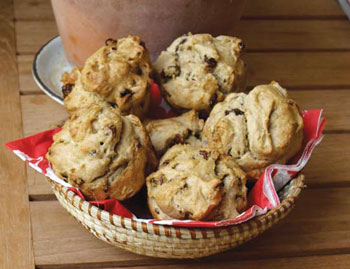 75g / 2½ oz dairy-free spread
50g / 2 oz pale muscovado (raw) sugar
1 small egg
150ml / ⅔ cup coconut milk
50g / 2 oz each gram (chickpea) flour, buckwheat flour and rice flour
½ tsp xanthan gum
2 tsp baking powder (baking soda)
1 heaped tsp cinnamon and a generous pinch of salt
100g / 3½ oz raisins or sultanas (golden raisins)
Method
Heat the oven to 190C/375F/Gas 5.
Beat the spread and sugar together till pale and creamy then gently beat in the egg and coconut milk.
Sieve the flours with the baking powder, xanthan gum, cinnamon and salt and gradually beat them into the liquid mixture with a wooden spoon.
Fold in the raisins or sultanas (golden raisins) and spoon the mixture into 6 greased mince pie or tart pans.
Bake the muffins for 20 minutes or until a skewer comes out clean.
Remove from the tins and cool slightly on a rack.
The muffins are also good cold and freeze well.
We have over 800 delicious freefrom recipes on this site all of which are gluten free, most of which are dairy and lactose free and many of which are free of most other allergens. Please go to the following sections to try them out: