Michelle's Freefrom Macaroons and Chocolate Macaroons

Corn, gluten, lactose, milk, nightshade, peanut, sesame, soya & wheat free
These are very simple and very tasty – but do be careful not to overcook them…

Makes around 20 mini macaroons
Ingredients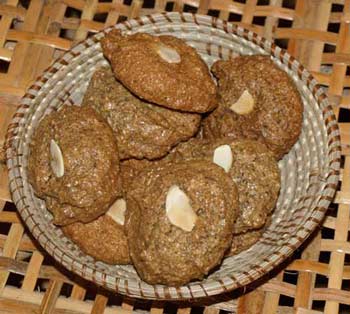 300g / 10 oz ground almonds
300g / 10 oz pale muscovado sugar
40g / scant 2 oz arrowroot
6 medium egg whites
1 tsp vanilla essence or 20g / scant 1 oz of 70–80% dairy free chocolate, grated
handful of flaked almonds
Method
Heat the oven to 150C/300F/Gas mark 3.
Beat the almonds, sugar, arrowroot and egg whites in a large bow either by hand or in an electric mixer.
Mix in either the vanilla or the grated choc.
Lightly oil a sheet of aluminium foil or baking paper.
Use a teaspoon to drop small macaroons onto the sheet then press a piece of flaked almond into the top of each.
Bake for 20–25 minutes then remove from the oven and allow to cool.
The macaroons will be very soft when you take them out of the oven but do not be tempted to put them back to cook more (as I have done on several occasions!) or you will end up with very tasty but denture breaking biscuits!
When they are cold, peel off the paper and store in an airtight box. They should be slightly crunchy on the outside and deliciously chewy inside.


We have over 800 delicious freefrom recipes on this site all of which are gluten free, most of which are dairy and lactose free and many of which are free of most other allergens. Please go to the following sections to try them out: