Michelle's Freefrom Chocolate Brownies
Corn, gluten, lactose, milk, nightshade, peanut, sesame & wheat free; can be nut & soya free
This makes a quite solid, rich brownie – not gooey, but 'meaty'! If you want to make it egg free you can, although they will be a bit solider. Just leave out the eggs and add 3 heaped teaspoon of baking powder rather than the 2 level teaspoons specified in the recipe. If you want to make it nut free – leave out the nuts!
Makes 8 generous brownies
Ingredients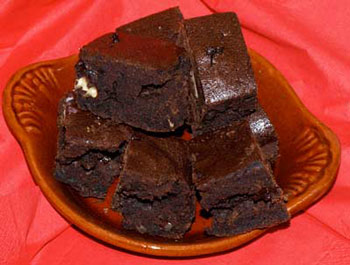 150g / 6oz dairy free spread or coconut oil
150g / 6oz dark muscovado sugar
75g / 3oz cocoa powder
2 eggs
75g / 3oz sifted gram or chickpea flour
75g / 3oz rice flour
2 level tsp gluten and wheat-free baking powder
150ml / 5 floz milk – soya, oat, goat, rice, nut or hemp – whichever you can tolerate
50g / 2oz dark chocolate broken into small pieces
75g / 3oz broken walnuts or pecan nuts
Method
Heat the oven to 180C/350F/Gas mark 4.
Beat the spread with the sugar in a mixer, then add the cocoa powder and the eggs.
Beat very briefly then stir/fold in the flours and the baking powder along with the milk, chocolate pieces and the nuts.
Spoon into a well oiled baking tray, lined with oiled baking parchment or foil to make them easier to get out. The mixture needs to be a good 3cm/1 inch thick.
Bake for 25-30 minutes or till a skewer comes out clean – then remove from the oven and, in the tin, cut into whatever size brownies you want.
Allow to cool completely before removing with a spatula.
Makes 8 generous brownies - per brownie
433 Calories
8g Protein
29g Fat ( 7g Sat fat, 11g mono, 9g poly)
38g Carbohydrate of which 25g Sugar
4g Fibre, 400mg Sodium, 1g salt
94mg Calcium


We have over 800 delicious freefrom recipes on this site all of which are gluten free, most of which are dairy and lactose free and many of which are free of most other allergens. Please go to the following sections to try them out: