Michelle's Freefrom Chocolate Biccies

Corn, egg, gluten, lactose, milk, nut, peanut, sesame, soya & wheat free
These are very tasty little biscuits (cookies) but you need to be careful not to burn them. Because they are so dark it is easy to do!
Ingredients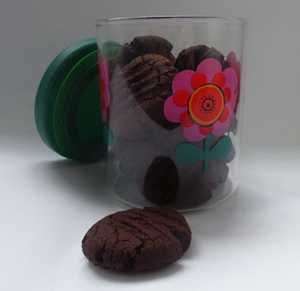 75g / 2 ½ oz dairy-free spread
75g / 2 ½ oz dark muscovado sugar or 50g / 2 oz caster (white) sugar
50g / 2 oz rice flour
50g / 2 oz gram/chick pea flour
50g / 2 oz gluten/wheat-free cocoa powder
1 tsp gluten/wheat-free baking powder (baking soda)
Method
Heat the oven to 190C/375F/Gas mark 5.
Beat the spread and sugar together till they are light and fluffy.
Sift together the flours, cocoa and baking powder (baking soda) and beat them into the mixture.
Roll teaspoons of the mixture into balls with your hands then squash them flat and decorate with the back of a fork.
Transfer carefully onto a baking tray and bake for 10-15 minutes, taking care that they do not burn.
Remove the biscuits (cookies) from the oven, cool slightly then transfer them carefully (they are quite crumbly) onto a rack to cool completely.
Serves 6 - per portion
200cals - 2g protein
12g total fat - 8g sat / 3g mono / 0.4g poly
21g carbohydrate of which 13g sugar
1.5g fibre - 235mg sodium / 10.6g salt
We have over 800 delicious freefrom recipes on this site all of which are gluten free, most of which are dairy and lactose free and many of which are free of most other allergens. Please go to the following sections to try them out: