Freefrom Carrot Cake with Cranberries
Gluten, lactose, milk, nightshade, nut, peanut, sesame & wheat free; can be soya free without the icing
I have substituted the traditional nuts in this cake with cranberries so that it is OK for nut allergics – and it helps use up all those excess cranberries after Christmas! However, if you wish to be more traditional, substitute 75g broken walnuts or pecans for the cranberries and use the juice of the whole orange rather than just half.
I really do not like my carrot cake iced (frosted) as I always find the icing far too rich – hence the icing-free picture – but if you do, you can make a very pleasant icing with a soya cream cheese.
Ingredients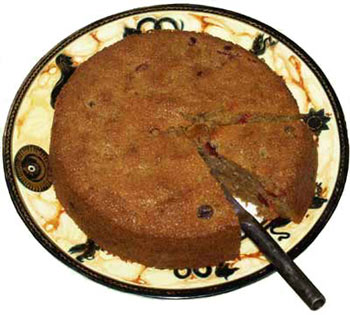 200g / 7 oz dairy-free spread (we used PURE)
200g / 7 oz light muscovado sugar (raw sugar)
grated rind of 1 orange and juice of half
200g / 7 oz carrots, scrubbed and coarsely grated
200g / 7 oz gluten and wheat-free flour –
I used the Doves Farm brown bread (whole wheat) flour to give it a bit more texture but you could also use a combination of 110g / 4 oz gram flour or rolled oats (oatmeal) thoroughly whizzed in a food processor and 90g / 3 oz rice flour (or 45g / 1½ oz rice flour and 45g / 1½ oz potato flour)
1 heaped tsp gluten and wheat-free baking powder (baking soda)
½ tsp each ground cinnamon and nutmeg
pinch salt
4 eggs
50g / 2 oz fresh cranberries
Icing

225g / 8 oz soya cream cheese (we used Tofutti Creamy smooth original)
20g / 1 oz light muscovado sugar (raw sugar)
rind 1½ oranges, grated
juice ¼ orange
Method
Heat the oven to 180C/350F/Gas mark 4.
Beat the spread with the sugar until both are light and fluffy. Lightly beat in the carrots and the orange rind.
Sieve the flours with the baking powder (baking soda), spices and salt.
One at a time, mix in the eggs, each with a tablespoon of the flour mix.
Fold in the rest of the flour along with the orange juice and the cranberries.
Line a 20cm cake tine (8" cake pan) with greased greaseproof paper (waxed paper) and spoon in the mixture (batter).
Bake for 50 minutes or until a skewer comes out clean from the middle.
For the icing
Beat the cream cheese in a bowl with the sugar.
Add the grated rind of one orange and the juice, beat again and spread over the carrot cake.
Sprinkle the remaining orange rind over the top.
Per cake
Calories 4422 Kcals
65g Protein
320g Fat (90g Sat fat,102g mono, 113g poly)
354g Carbohydrate of which 228g Sugar
25g Fibre, 3105g Sodium, 7.9g salt
661mg Calcium

We have over 800 delicious freefrom recipes on this site all of which are gluten free, most of which are dairy and lactose free and many of which are free of most other allergens. Please go to the following sections to try them out: