Michelle's Freefrom Banana and Polenta Bread

Gluten, nightshade, nut, peanut, sesame & wheat free; can be lactose, milk & soya free

This incredibly-easy-to-bake loaf comes out like a slightly sweet corn bread – good both on its own and with butter or spread.
Makes one small loaf
Ingredients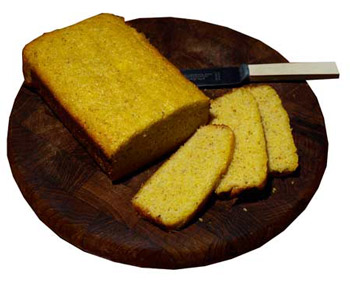 2 medium ripe bananas
150g / 6 oz coarse polenta
50g / 2 oz dairy-free spread or coconut oil
2 heaped tsp gluten and wheat-free baking powder
pinch salt
1 egg
90ml / 3fl oz goat, sheep, soya or oat milk
Method
Heat the oven to 180 C / 350F / Gas Mark 4.
Purée the bananas in a food processor along with all the other ingredients.
Line the base of a small loaf tin with greaseproof paper and oil its sides.
Spoon the mixture into the tin and bake for 35 minutes or till a skewer comes out clean.
Remove from the oven and allow to cool slightly. Knock out of the tin and cool on a rack covered.
We have over 800 delicious freefrom recipes on this site all of which are gluten free, most of which are dairy and lactose free and many of which are free of most other allergens. Please go to the following sections to try them out: