Michelle's Freefrom Egg-free and Nut-free Second Cousin to a Bakewell Tart
Egg, gluten, nightshade, nut, peanut, sesame & wheat free; can be lactose, milk or soya free
As with quiche, it is not possible to make a true Bakewell tart without eggs and ground almonds. However, the ground pine nuts do make a good alternative to almonds - and although the filling does not taste much like Bakewell tart filling, it does taste jolly nice!
Ingredients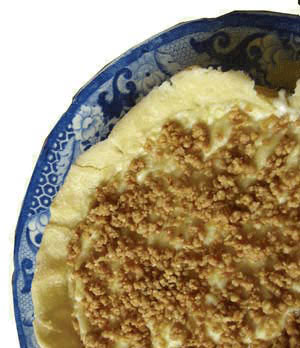 Pastry
200g / 7 oz flour -
you can use your own favourite gluten-free flour, a proprietary mix such as Doves Farm or 100g / 3½ oz gram flour with 100g / 3½ oz rice flour - well sifted
100g / 3½ oz butter or dairy-free spread - we used PURE
40-50ml (3-4 tbsp) ice cold water
Filling
4 tbsp jam (jelly) of your choice
200g / 7 oz pine nuts
40g / 1½ oz cornflour (cornstarch)
200ml / scant 1 cup cow, goat, sheep, soya or rice milk
25g / 1 oz muscovado sugar (raw sugar)
zest and juice of 2 large lemons
Method
Put the flour in a food processor with the butter or spread and whizz till it has the texture of breadcrumbs.
Add the water and whizz again briefly. Remove from the processor, roll into a ball, wrap in clingfilm (plastic wrap) and chill for 15 minutes.
Meanwhile heat the oven to 180C/350F/Gas Mark 4.
Roll out the pastry and line a 15cm flan dish (6 " tart pan). If the pastry crumbles just use pieces to patch.
Line with greaseproof paper (waxed paper), weight with beans and bake blind for 15 minutes.
Remove the beans and paper and return to the oven for a further 10-15 minutes or until the pastry is crisp.
Meanwhile, grind the pine nuts in a food processor until they are roughly the texture of ground almonds.
Put the cornflour (cornstarch) in a saucepan, stir in the milk gradually, keeping it smooth, then heat, stirring continuously, until the sauce thickens. Cook for a minute or two.
Add the sugar and the lemon zest and juice, mix well then add all but a tablespoonful of the pine nuts. Mix thoroughly.
Spread the jam (jelly) over the base of the pastry case (tart shell) then spoon in the filling.
Roast the remaining pine nuts in a dry frying pan or under a grill, taking care that they do not burn.
When lightly browned, allow to cool then sprinkle over the tart.
Allow the tart to cool completely before serving.
Serves 6 - per portion
555cals - 9g protein
38g total fat - 11g sat / 11g mono / 15g poly
46g carbohydrate of which 14g sugar
2g fibre - 125mg sodium / 0.3g salt
Good Source of: Vitamins B1, magnesium, iron, copper & zinc
We have over 800 delicious freefrom recipes on this site all of which are gluten free, most of which are dairy and lactose free and many of which are free of most other allergens. Please go to the following sections to try them out: