Michelle's Freefrom Apple Cake
Egg, gluten, nightshade, peanut, sesame & wheat free; can be lactose, milk, nut & soya free

Makes a reasonable size cake for 6 (I made two small ones if you are wondering about the size in the picture!)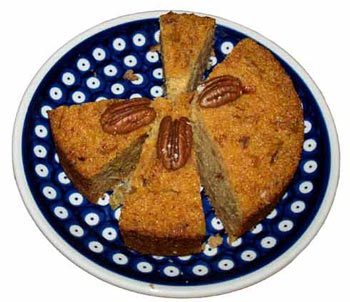 Ingredients
2 large Bramley apples – approx. 700g of apple, cored and chopped small, skin on
10 fresh dates, pipped and chopped very small
250ml water
120g coconut oil or butter or dairy-free spread
300g chestnut flour or coarse polenta
4 heaped tsp gluten and wheat-free baking powder
pecan nuts, walnuts or almonds to decorate (optional)
Method
Heat the oven to 180C/350F/Gas mark 4.
Put the chopped apple with the chopped date in a pan with the water, bring to the boil, cover and cook gently for 10–15 minutes or until the apple is totally soft.
In a bowl beat the coconut oil, butter or spread with a wooden spoon until soft.
Gradually beat in the apple purée, then thoroughly fold in the chestnut flour or polenta along with the baking powder.
Line the base of a 200cm/8 inch cake tin with greaseproof paper and spoon in the mixture.
Bang it till it flattens then decorate with the nuts if you are using them.
Bake for 50 minutes or until a skewer comes out clean.
Cool slightly in the tin then turn out and allow to cool completely on a rack.
We have over 800 delicious freefrom recipes on this site all of which are gluten free, most of which are dairy and lactose free and many of which are free of most other allergens. Please go to the following sections to try them out: