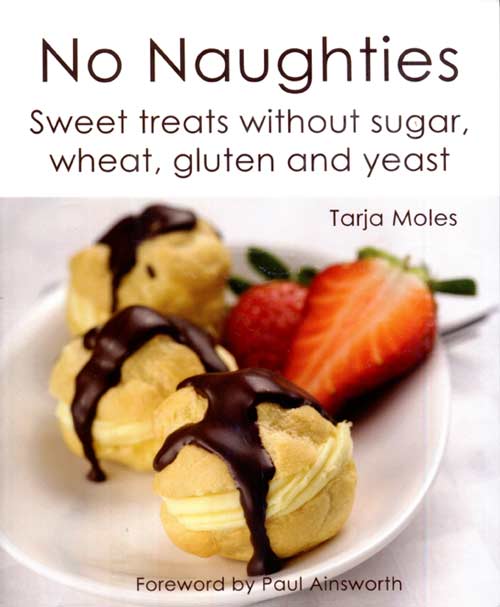 Tarja Moles' new book is just as yummy as it sounds! Over 50 delicious sweet and wicked treats which really do not contain any sugar, wheat, gluten, yeast or peanuts and nearly all of which can also be made either dairy or lactose free! But this has not come easy. Years of experiments (as she tell us below) with inedible soggy biscuits and rubbery cakes were needed but, driven on by her own very sweet tooth and very restricted diet, she persevered – and we can reap the benefit!
For example, totally freefrom tiramisu, instant mango sorbet, profiteroles, chocolate and vanilla celebration cake, torta de banana, summer berry squares, pumpkin and rhubarb muffins...... And, what is even better, lots of good advice on working with unusual ingredients so that your biscuits will never be soggy and your cakes will never be rubbery!
Below Tarja shares her story and four of her delicious recipes – Biscotti, Drop Scones, Strawberry boost and Coconut chocolate truffles. If you are so taken with them that you definitely need more, nothing could be easier.
No Naughties: Sweet treats without sugar, wheat, gluten and yeast is published by Luscious Books at £11.99 (ISBN 978-0-9569867-1-9); large print edition £13.99 (ISBN 978-0-9569867-2-6) and retailers, including Amazon.
You could also check in at www.nonaughties.com
Stop Press – December 2012
Tarja has two Christmas books, No Naughties at Christmas and No Naughties' Christmas treats for kids available on her website now.... Check in here.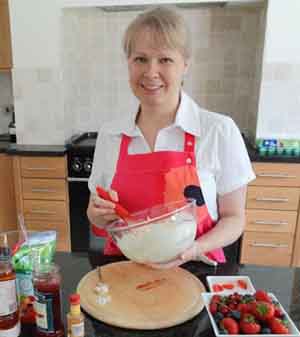 Being a self-confessed sweet tooth, it was a terrible blow have to drastically change my diet ten years ago to leave out sugar, gluten and yeast – basically, all the essential ingredients for my much loved native Finnish cinnamon buns, pain au chocolat and other sweet treats. The new diet helped to address some of the digestive problems and chronic fatigue stemming from fibromyalgia which had I had suffered from since I was sixteen and the later diagnosed Ehlers-Danlos syndrome. It even made the lactose intolerance I had had since childhood less severe. However, life without sugar and wheat was a lot more difficult and less enjoyable!
As a consequence, I decided to start experimenting how to make sweet treats without the 'naughty' ingredients. I thought I would also incorporate egg-free, dairy-free, nut-free, corn-free and vegan experiments to cater for some of my friends and family. Initially, there were more disasters than successes: uncaramelised caramel sauces; cakes that were so rubbery they bounced like balls; soggy biscuits that had to be eaten with a spoon. However, over the years I have figured out how many of the substitute ingredients work, and accordingly, my success rate has significantly improved. ("Thank goodness!" says my mother-in-law, who has been my faithful guinea-pig for over eight years now.)
In my recipes I use xylitol, Sweet Freedom, no-added-sugar fruits spreads and fruits' natural sweetness to sweeten my treats. Instead of wheat flour, I use Doves Farm gluten-free flour blends, polenta, corn flour and ground almonds. The aim with all of my treats has been to make them taste as 'normal' as possible. To test this, I have tried my recipes on numerous unsuspecting guests and only told them afterwards that there was no sugar or gluten in their puddings!
I have discovered that you really don't have to be naughty to enjoy good food. Especially now that new 'free-from' ingredients and products are coming to the market all the time, it's possible to enjoy sweet treats even when you have multiple dietary restrictions. In other words, you can have the best of both worlds – be healthy, feel well and indulge your taste buds.
For more information on the No Naughties book and blog, please see my website at www.nonaughties.com.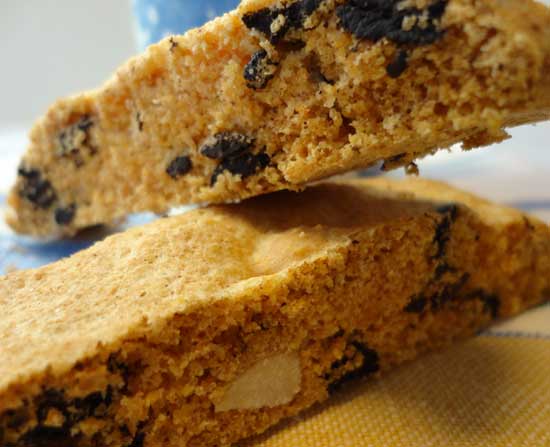 Makes about 20
Gluten-free, wheat-free, sugar-free, yeast-free, soya-free, dairy-free, casein-free, lactose-free, peanut-free, vegetarian, nut-free*
Biscotti are twice-baked dry biscuits from Italy. They are a great snack with your afternoon or morning coffee.
1 large egg
100 g xylitol
½ tsp vanilla extract
65 g fine polenta
65 g Doves Farm gluten-free white bread flour blend
½ tsp gluten-free baking powder
¼ tsp salt
60 g whole blanched almonds*
70 g plain xylitol chocolate drops/xylitol chocolate chopped into tiny pieces (available, for example, from Plamil, www.plamil.co.uk)
1. Pre-heat the oven to 180C/350F/gas mark 4. Line a baking tray with non-stick baking paper.
2. Mix the polenta, flour, baking powder and salt in a bowl.
3. In another bowl, whisk the egg and xylitol with an electric whisk until the volume triples.
4. Mix in the vanilla. Fold in the flour mixture, the almonds and the chocolate drops.
5. Spoon the thick mixture onto the baking tray, forming an oblong that looks like a log. The size should be about 25 cm x 5 cm.
6. Bake for 20-25 minutes until the log is pale brown. Take out of the oven and let it cool for 10 minutes.
7. Reduce the oven temperature to 160C/ 325F/gas mark 3.
8. Cut the oblong into 1 cm slices and turn them on their side. Bake for 10 minutes.
9. Turn the slices to the other side and bake for another 5 minutes.
10. Let the biscotti cool and harden on a wire rack for a couple of hours. If you want them really crispy, leave to stand overnight before serving them or storing them in an airtight container.
*Substitutions
If you can't eat nuts, leave out the almonds.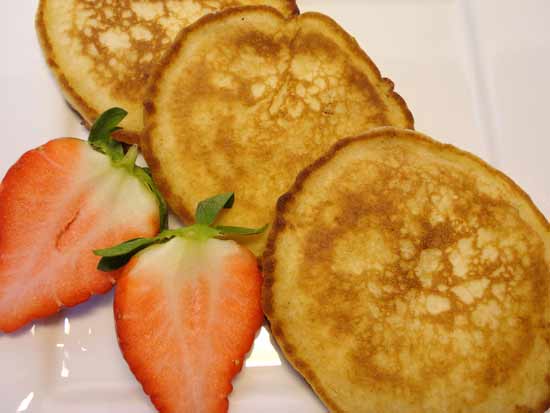 Makes about 20
Gluten-free, wheat-free, sugar-free, yeast-free, soya-free, nut-free, peanut-free, vegetarian, dairy-free*, casein-free*, lactose-free*
Drop scones are perfect summer treats. They are quick to make and they're so delicious they will disappear quickly, too. Have them for a lazy breakfast, on a sunny afternoon or as a slightly indulgent supper.
220 g Doves Farm gluten-free plain white flour blend
80 g xylitol
2 tsp gluten-free baking powder
a pinch of salt
2 large eggs
120 ml semi-skimmed milk*
unsalted butter* for frying
1. Mix the flour, xylitol, baking powder and salt in a bowl.
2. Add the eggs and mix.
3. Mix in the milk a little at a time as this will help to get rid of any lumps. Once you have added all the milk, you will notice that the batter is thick.
4. Heat the frying pan on a high heat to start with, then turn to medium heat. Add a knob of butter and spread around the pan. Drop about a tablespoonful of the batter onto it and fry on both sides. If you have a large pan, you can probably fry up to four drop scones at a time.
* Substitutions
To make these drop scones lactose-free, substitute ordinary milk for Lactofreem milk. If you want to make them entirely dairy- and casein-free, use rice or soya drink. In addition, use oil or non-dairy vegetable margarine for frying.
Serving ideas
Serve immediately with whipped cream and fresh berries.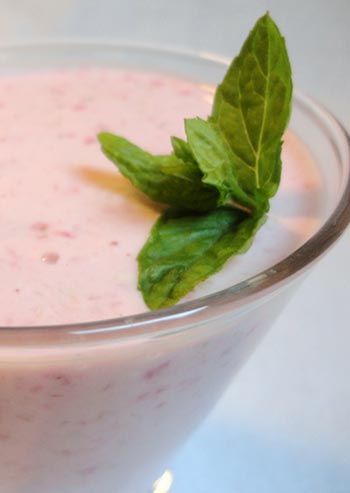 Serves 2
Gluten-free, wheat-free, sugar-free, yeast-free, soya-free, egg-free, peanut-free, corn-free, vegetarian, nut-free*, low lactose*
This is a superb breakfast. Not only does it taste yummy, but it also keeps the hunger away for a long time. It's an ideal treat for those with high cholesterol as oats and almonds are said to contribute to lowering it.
15 g whole blanched almonds*
35 g gluten-free oats
200 g natural yoghurt*
200 g strawberries
1 tsp vanilla extract
50 ml apple juice
Sweet Freedom to taste
1. Blitz the almonds and the oats in a food processor or electric chopper.
2. Add the yogurt, strawberries, vanilla extract and apple juice and blitz until the mixture is smooth.
3. Taste and add Sweet Freedom if needed.
4. Pour into glasses and put in a refrigerator for at least 15 minutes. The longer you leave it, the more the oats will swell and the thicker the mixture will become. If it becomes too thick to your liking, just add more apple juice.
*Substitutions
If you can't eat nuts, substitute the almonds for the same amount of oats (so the total amount is 50 g). To make the treat low in lactose, use natural yogurt with probiotics (bio-cultures).
Coconut and chocolate truffles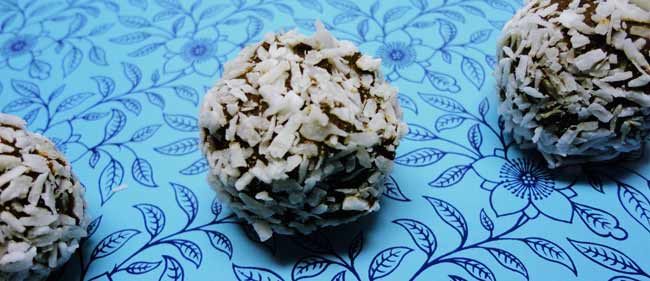 Makes 15-17
Gluten-free, wheat-free, sugar-free, yeast-free, soya-free, egg-free, nut-free, peanut-free, corn-free, vegetarian
If you fancy some decadent nibbles, try these truffles. They're irresistible.
60 g plain xylitol chocolate (available, for example, from Plamil, www.plamil.co.uk)
60 g unsalted butter
2 tbsp xylitol
¼ tsp vanilla extract
85 g extra thick double cream
30 g desiccated coconut
1. Put the chocolate, butter, xylitol and vanilla extract into a saucepan. Heat gently and stir constantly until the chocolate and butter have melted, the xylitol has dissolved and the mixture has become smooth and thickened a little. Be careful not to boil it.
2. Take off the heat and add the cream. Stir until the mixture is smooth.
3. Pour into a small bowl and chill in a refrigerator for 8 hours.
4. Put the desiccated coconut into a small bowl.
5. Make small balls out of the hardened chocolate mixture. You can use, for example, a melon scoop or a teaspoon to help you, or you can just use your fingers. Be aware that if you handle the mixture too much, it will melt into your hands. If this happens, place the bowl back in a refrigerator.
6. Roll the truffle balls in the desiccated coconut and place on a serving plate. Store in a refrigerator.
Try something different
You can also use chopped hazelnut nuts, crushed toasted almond flakes or cocoa
powder to coat the truffles.