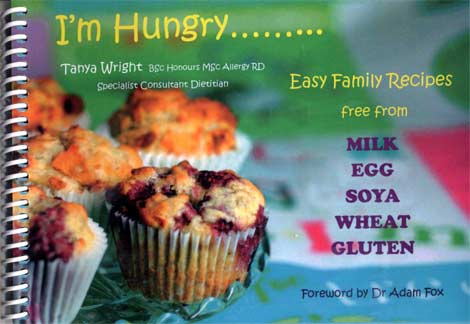 I'm Hungry by Tanya Wright
Tanya Wright is well known in allergy circles as a specialist dietitian who really understands allergy as she is herself seriously allergic to milk and eggs. Many readers will also know her 'Enjoying Life with a Severe Food Allergy' which has been an invaluable reference source for those with anaphylactic allergies for a number of years. Her latest book, though, as you can see is a straight cookery book which although it can be used for the whole family, has been designed very much with children in mind.
And I defy any child not to be tempted by it! Very bright and jolly – every recipe backed by a lovely colourful picture of the dish. The recipes are simple to prepare and take account of allergic children's often nervous attitude to food with clearly visible ingredients and lots of options. Moreover, the book is spiral bound and printed on tough spongeable paper so will be well able to stand up to the onslaughts of a busy family kitchen .
Old (and healthy) favourites such as Sausages on sticks, hummus, fish pie, chicken kebabs, 'Leekalicious' Mash, and creamy pasta rub shoulders with classic cakes and desserts such as Cornflake Crunch Cake. Millionaire's shortbread, Gingerbread families, Scones, Rice pudding and the fun Banana Lolly below.
All recipes are coded not only for allergy but for High protein, High Energy, High Iron and High Calcium and there are some useful allergy tips and a conversion chart at the back of the book.
The book costs £9 + £1.50 P&P and you can get it by sending your name, address and email address, along with a cheque for £10.50, to Tanya Wright, 106, High Street, Great Missenden, Bucks HP16 OBE – or you can buy the book here on Amazon.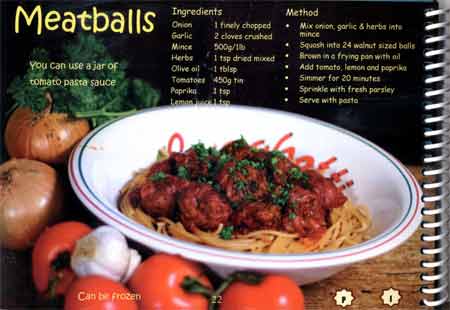 Ingredients:
1 finely chopped onion
2 cloves crushed garlic
500g/1lb mince
1 tsp dried mixed herbs
1 tbsp olive oil
450g tine tomatoes
1 tsp paprika
1 tsp lemon juice
Method
Mix onion, garlic and herbs into the mince.
Squash into 24 walnut size balls
Brown in a frying pan with oil
Add tomato, lemon and paprika
Sprinkle with fresh parsley
Serve with pasta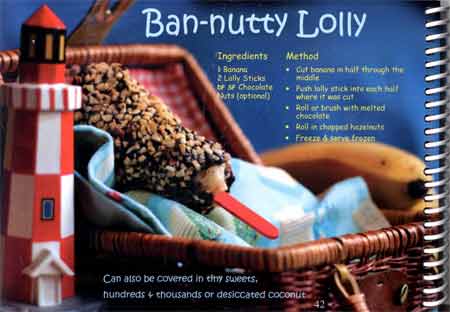 Ingredients:
1 banana
2 lolly sticks
DF SF chocolate
nuts (optional)
Method:
Cut banana in half through the middle
Push the lolly stick into each half where it was cut
Roll or brush with melted chocolate
Roll in chopped hazelnuts
Freeze and serve frozen