Re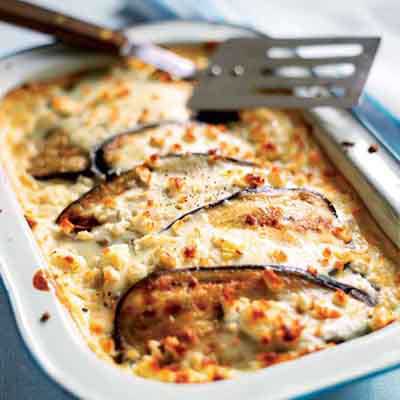 Freefrom Moussaka
Allergy-friendly cookbook - no eggs, no dairy, no gluten, no nuts
by Alice Sherwood
Alice Sherwood loves to eat good food so when her son, Archie, was diagnosed as egg and nut allergic, she took it as a challenge to produce food for him that everyone would want to eat - not that he had to eat!
And she has certainly succeeded. Delicious recipes include the fun but exotic (like the sushi below), the homely and the classics plus breads, luscious desserts and children's party treats. For each she gives gluten, egg, dairy and nut free options so you can adapt the recipe to suit your diet as well as watch out for warnings about confusing ingredients. Do not, for example, swop wine vinegar for grain based or malt vinegar as the latter will be no good for those on gluten-free diets.
The other lovely thing about the book is that it has lots of great pictures of really mouth-watering dishes. No longer does 'free-from' mean free-from taste or good looks. Alice's recipes can hold their own with the best.
Click here to buy The Allergy-friendly Cookbook at Amazon.
Moussaka

Alice gives various versions of this traditional dish to allow it to be
'free from' as many ingredients as you need. We have gone for all her options so this recipes is egg, dairy, gluten and nut free.

Serves 6
3 aubergines
salt
olive oil
2 large onions, chopped
3 garlic cloves, finely chopped
1/2 tsp ground cinnamon
1/4 tsp paprika or mild chilli
powder
500g minced lamb
1 tbsp tomato purée
200ml red wine
freshly ground black pepper
1/2 tsp dried oregano
6 tbsp rice flour
salt & freshly ground black pepper
Quick béchamel sauce:
450ml soya, rice or oat milk
45g dairy-free spread
15g each rice flour & cornflour
bouquet garni
2 tbsp soya cream
75g dairy-free feta - we used Redwood's soya feta

1. Cut the aubergines lengthways in 5mm slices. Place in a colander, sprinkle with salt and leave for 30 minutes for the salt to draw out the bitter juices; then rinse and pat dry with kitchen paper.
2. Heat 2 tablespoons of the olive oil in a heavy based casserole dish or frying pan and fry the onions and
garlic for 2 minutes until softened. Stir in the spices.
3. Add the minced lamb and fry till brown. Using a
wooden spoon turn the mince constantly to break up
any lumps. Add the tomato purée and wine, season with salt and pepper, and stir well. Bring to the boil, reduce the heat as low as possible and simmer
uncovered, stirring occasionally for 40 minutes. Remove from the heat and stir in the oregano.
4. Meanwhile heat enough olive oil to coat the base of a frying pan.
Season the rice flour with salt and pepper, and dip the aubergine slices in the flour. Fry in batches till golden on each side. Drain well on kitchen paper.
5. Make the béchamel sauce by melting the dairy-free spread over a low heat and stirring in the flour. Cook over a low heat for about two minutes taking care not to let the mixture brown.
6. Gradually add the milk using a whisk to ensure there are no lumps. Add the bouquet garni and simmer the sauce over a very low heat for 8-10 minutes stirring constantly with a wooden spoon.
7. Stir in the cream and season to taste then stir in the feta cheese.
8. Preheat the oven to 190C/375F/Gas mark 5.
Line the base of a 20-25cm ovenproof dish with a layer of aubergine slices, then half the meat, then aubergines, then the remaining meat, finishing with the aubergines.
Top with the béchamel sauce and bake for 40 minutes or until the top is lightly browned and bubbling.

Return to cookery writers home