'Candida Can Be Fun!' by Rebecca Richardson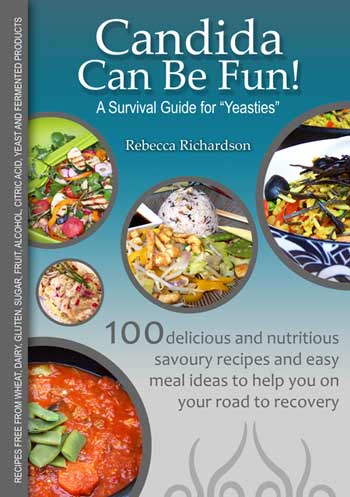 'Candida Can Be Fun!' is an essential survival guide and specialist 'free from' cookbook written by someone who knows what it is like to suffer from Candida-related symptoms.
After many years of unexplained health issues, Rebecca Richardson finally found the answer she was looking for when she went to see a Qualified Nutritionist about her ailments. She was diagnosed with an overgrowth of Candida and food intolerances. Relieved to find out that there was an actual name for what was wrong with her, she went about the arduous task of tackling her problems with a rigid diet (no wheat, gluten, dairy, sugar, fruit, yeast, nuts and fermented products) and a recommended supplement plan. After experiencing the ups and downs of the anti-Candida diet for herself, she decided to write this humorous, fully colour illustrated cookbook to share with others exactly what you CAN eat and how to get yourself back on the road to good health.
If you suffer from recurrent thrush, cystitis, digestive disorders and/or other random health issues that a Doctor cannot explain or diagnose, then this book is for you. However, you don't have to suffer from an overgrowth of Candida to enjoy the tasty recipes. There is something for everyone: meat eaters, fish eaters, vegetarians and vegans. The meals are also suitable for coeliacs, diabetics, dairy intolerants and those who have a compromised immune system (ME, CFS, Fibromyalgis, HIV and Cancer sufferers).
Havng doen her researchout there, Rebecca says that she can find no other cookbook out there that is 'free-from' ALL of the food groups to which candida sufferers, and so many of those other food intolelrants, find problematic.
'Candida Can Be Fun!' is self-published @ £19.99 and is available from www.candidacanbefun.co.uk or from Amazon.
Aubergine Roast with Quinoa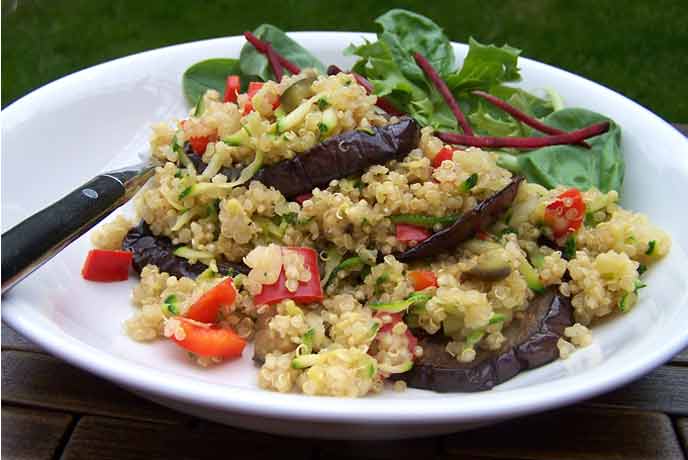 It's always a challenge to cook for someone who is vegetarian or vegan, let alone without the use of mushrooms and cheese, so you can impress your friends with this delicious meal!
Serves 2 – 3
1 medium aubergine (trimmed and cut into 1cm thick rings)
½ teaspoon of sea salt
2 tablespoons of rapeseed oil
1 tablespoon of fresh lemon juice
1 heaped teaspoon of chopped fresh root ginger
1½ tablespoons of Bragg Liquid Aminos
200g (7oz) of quinoa
1 pint of vegetable stock (or 1 Kallo yeast-free vegetable stock cube and 1 pint of boiling water)
1 red pepper (cored, deseeded and chopped)
1 medium courgette (trimmed and grated coarsely)
Sea salt and freshly ground black pepper to taste
Prepare the aubergine by trimming both ends. Slice into 1½ cm thick rings and rub liberally with sea salt.
Leave to sit for 20 minutes. Wash off the salt from both sides well with cold water and pat dry.
This process removes much of the bitterness and reduces fat absorption. (You can choose not to do this).
Preheat the oven to 180°C/350°F/gas mark 4.
In a large frying pan, heat the oil. On a medium heat, fry the aubergine until brown on both sides.
Lay the aubergine flat on a roasting tray, so that it is just one layer.
In a measuring jug, mix the lemon juice, ginger and Bragg Liquid Aminos. Pour over the aubergine.
Roast in the oven for 10 minutes, then turn the slices over and cook for a further 10 minutes.
In a sieve, rinse the quinoa with cold water and drain.
In a wok, toast the quinoa on a low heat for a minute.
Add the stock to the quinoa and stir well. Cover with a lid.
Simmer on a low heat for about 15 minutes, stirring often until all the water is absorbed.
(Note that the grain will turn from white to transparent and the spiral-like tail will appear when it is cooked).
In the frying pan, stir-fry the pepper and courgette on a medium heat for about 5 minutes.
Add this to the quinoa in the wok. Mix thoroughly. Remove the aubergine from the oven.
Layer the aubergine on a plate and spoon the quinoa on top. Add another layer of aubergine and quinoa.
Serve with a beetroot salad and a dollop of hummus.
King Prawn Indian Lemon Rice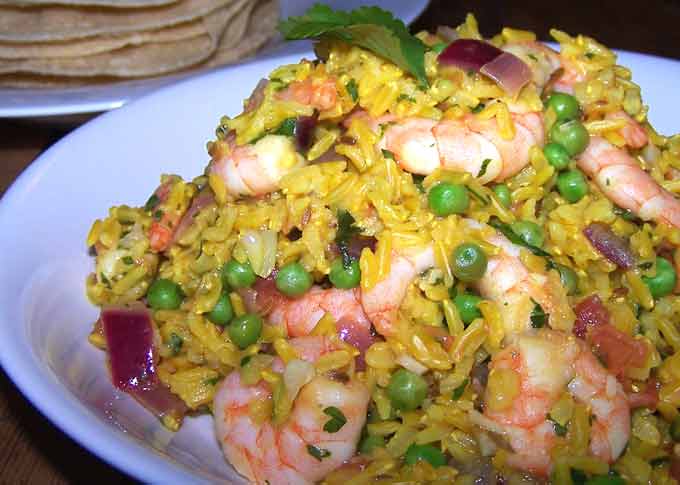 If you do not eat fish, you can always substitute the prawns with a pulse of your choice instead. It will be just as tasty.
Serves 3 – 4
225g (8oz) of brown basmati rice
1 teaspoon of turmeric
2 tablespoons of sunflower oil
2 - 3 teaspoons of cumin seeds
1 large red onion (peeled and diced)
3 large cloves of garlic (peeled and crushed)
Zest from 1 unwaxed, organic lemon (grated finely)
250g (8.8oz) of king prawns (deveined and washed)
2 fresh tomatoes (peeled, cored and chopped)
2 tablespoons of freshly chopped coriander
85g (3oz) of petit pois
2 tablespoons of fresh lemon juice
Sea salt and freshly ground black pepper to taste
In a large pan with a lid, pour in about 1½ pints of boiling water, a small drop of oil and the turmeric.
In a sieve, add the rice and rinse well with cold water then add the rice to the pan.
Cover and simmer on a low heat, stirring occasionally, for about 25 - 30 minutes until cooked.
In a colander, drain the cooked rice then rinse well with boiling water until the water runs clear.
When cooked, rinse in a colander with boiling water to prevent stodginess, drain and set aside.
Put the prawns in a colander, devein them then rinse with cold water and drain.
Heat the oil in a wok. Add the cumin, onion, garlic and lemon zest.
Cook until the onion is soft (about 5 minutes).
Add the prawns, tomatoes, coriander and petit pois.
Cook until the prawns are done (about 5 - 10 minutes).
Add the rice and lemon juice to the wok.
Heat through and serve.