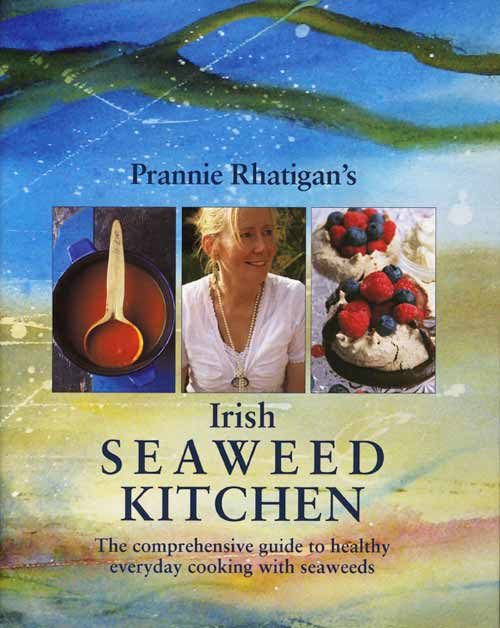 The Irish Seaweed Kitchen by Prannie Rhatigan
Prannie Rhatigan grew up on the west coast of Ireland. As children, her father took her and her siblings seaweed harvesting, teaching them which crops came at what seasons and how to harvest them without damaging the plants. Back home she learnt how to cook the seaweeds fresh, or how to dry them for future use, how to use them as the main ingredient in a dish such as laver or sleabhac bread, sea spaghetti salad or, more recently, a seaweed smoothie, or as a flavouring in anything from a nut roast to a chocolate brownie.
Later, Prannie studied to become a doctor and learnt that seaweeds were not only delicious but wonderfully healthy, not only providing excellent nutrition but delivering preventative and therapeutic benefits as anti-viral, anti-cancer and anti-inflammatory agents.
And now she has gathered together her own knowledge and experience, along with that of friends and colleagues, cooks, restaurateurs, fisherman and community gardeners in the Irish Seaweed Kitchen, a delightful 250 pages of recipes, seaweed lore, harvesting and storage advice, nutritional information – plus contact details for where those of us who are not lucky enough to live in the West of Ireland can buy seaweed. And all illustrated with hundreds of wonderful pictures.
Although the Irish Seaweed Kitchen is not, technically, a 'freefrom' cookery book, many of the recipes are already 'freefrom' and where they are not, it is very easy to substitute gluten/wheat-free or dairy-free ingredients. Interestingly, for those of you on wheat/gluten-free diets, Prannie herself never eats wheat . 'I don't think', she says, 'people understand how detrimental wheat is to health. I make everything for myself with rice flour and use spelt or rye for the rest of the family. Things can turn out a little flatter but I compensate by using an extra egg sometimes.'
We are giving four of Prannie's recipes below but that is only a tiny taster of the goodies on offer in the book. How about Baked hoisin onions wrapped in kelp, for example, or Broad bean and seaweed paté, her Green Seaweed Smoothie, a whole series of sushi recipes, Black bream streamed over seaweed with fennel sauce, Sea spaghetti cookies, Nori and no flour chocolate cake with lemon curd topping or – how to resist.... – Chocolate fondant with nori.....
If you cannot resist and you want that book for yourself – or as a gift – perfect Christmas or birthday gift.... you can buy it direct from Prannie's website, www.prannie.com, for a very reasonable €25 + €8.50–€15 P&P depending on where in the world you want it sent – or you can get it from Amazon here.
Sprouted Seaweed Hummus
Seaweed and Porcini Mushroom Risotto
Sticky Figgy pudding with brandied Alaria
Walnut and chocolate nori brownies
You can buy seaweeds used below from www.seaveg.co.uk, www.dolphinseaveg.com, www.clegganseaweed.com or www.algaranb.com.
Sprouted Seaweed Hummus
Corn, dairy, egg, gluten, lactose, nightshade (if you do not use paprika), nut & wheat free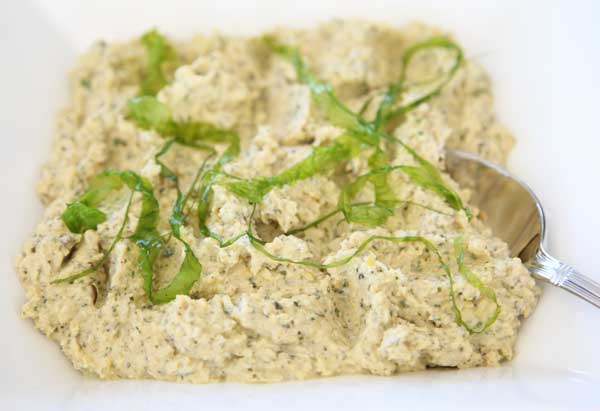 Recipe from Jessica Reid artist.
This is a very different way of making hummus, You have to start two days in advance, as the chickpeas are actually sprouted before cooking, and making them very digestible Those inclined towards flatulence after eating beans will find this recipe helpful.
250g/1/2 packet of organic chickpeas
3 or 4x 4 x 13cm (5 inch) pieces Alaria
3 clove garlic crushed
4 tablespoons olive oil, extra virgin
4 – 5 tablespoons olive oil extra virgin cold pressed
Juice of l or 2 lemons
1 – 2 tablespoons tamari (gluten-free)
Optional extras
A pinch of paprika
A few drops of toasted sesame oil
To prepare the chickpeas
Rinse well and soak overnight in plenty of cold water. Rinse well again, drain and leave to sprout for two days until germination begins and the tails have sprouted. Rinse with cold water 2-3 times a day.
Hummus
Place the chickpeas and Alaria in a pot with enough water to over and boil for l hour until soft. If necessary keep topping up the water, the seaweed will disintegrate. Finish the cooking by boiling the pot almost dry. Leave a little of the cooking water to get the right consistency when blending Transfer the chickpeas and seaweed to a food processor and process until smooth. Add garlic, tahini, olive oil, lemon juice and tamari and process briefly.
Add paprika and sesame oil, if using, process again and check seasoning. Serve as a dip with carrot and celery sticks or on breads with salads.
Seaweed and Porcini Mushroom Risotto
Corn, egg, gluten, lactose, nightshade, nut & wheat free; can be dairy free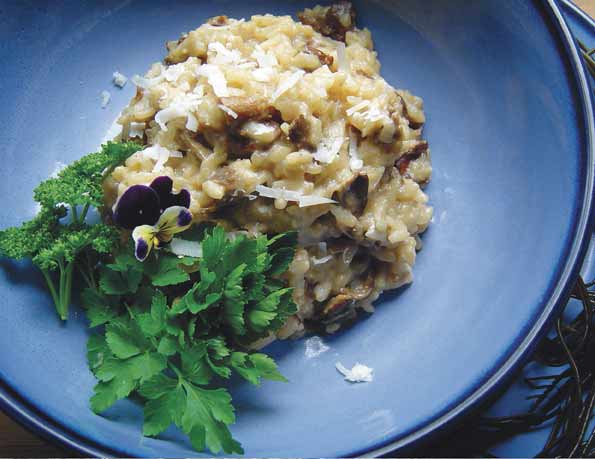 Although it may seem odd to feature a recipe from landlocked Switzerland in a seaweed cookery book ,the harvesting component of a dish is strikingly similar, We harvest on the shore, and the Swiss, equally passionately, harvest the upland forests for mushrooms of all kinds.
Andrea Oestreich a forensic toxicologist, a native of Graubunden, Switzerland. As a child he gathered mushrooms on early autumn mornings with his parents in the Alpine woods, some 6000 feet above sea level. This risotto has been Andréa's party piece for many years and he was very reluctant to have it invaded by alien sea plants However even he has to agree that it brought the dish to a new level.
Seaweed used – Sea spaghetti and Alaria
Serves 2-3
20g (3/4 oz) dried sea spaghetti snipped into 5mm (1/2 in) pieces
25g (1oz) dried porcini
450 (14 floz) lukewarm water
25g (1oz) butter or olive oil
1 small onion finely chopped
250g (9 oz) risotto rice preferably Carnaroil
200ml (7 floz) white wine
350 (12 floz) chicken stock hot
1 small garlic clove crushed
pinch of nutmeg
100g (3 1/2 oz) Parmesan cheese grated
2 dessertspoons Alaria ground finely
Few sprigs of parsley
Vegetarians can use a vegetable and/or seaweed Bouillon instead of chicken stock
To prepare the sea spaghetti and porcini
Rinse the sea spaghetti briefly under a cold tap to remove any sand and then soak for l hour in the measured lukewarm water. Soak the porcini in cold water for 3 minutes and rinse well under cold tap to remove forest grit. Add to bowl of soaking sea spaghetti for 1 hour.
To prepare the risotto
Melt the butter or heat the oil in a saucepan over moderate heat and the finely chopped onion and cook until translucent.
Add all the rice and stir well to coat with the butter/oil and onion mixture. Add the wine and stir over a moderate heat to evaporate it.
Add the mushrooms, sea spaghetti and the soak water to the chicken stock to keep hot.
Using a soup ladle add the hot chicken stock to the rice mix one ladle at a time stirring constantly.
The secret here is to never stop stirring.
When nearly all the stock has been absorbed, add the garlic.
The mushrooms and sea spaghetti will sink to the bottom of the stock pot or jug so be sure to include these ingredients as the stock is ladled into the rice.
The risotto is ready to eat approximately 20 minutes after the first ladleful has been added to the rice Add a pinch of nutmeg. Just before serving, add the Parmesan cheese and alaria and mix gently.
Serve immediately with a sprig of parsley.
Sticky Figgy pudding with brandied Alaria
Nightshade, nut & soya free; can be dairy, lactose, gluten and wheat free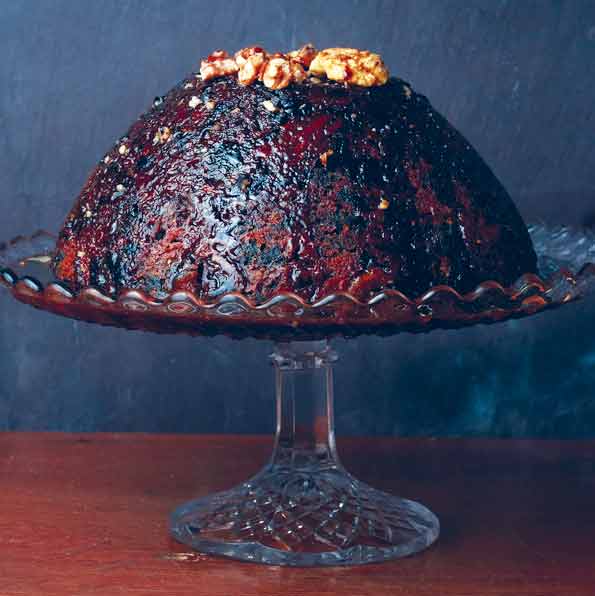 This wonderful pudding retains the richness of an old fashioned winter treat – the brandied Alaria an praline topping making it a dessert fit to grace the most discerning of Christmas tables do go to the bother of making a topping as it makes it extra special.
Seaweed used:Alaria
Serves 4-6
Brandied Alaria:
25g (1oz) dried alaria,
25ml (1floz) brandy
25ml (1floz) water
Using scissors strip the dried Alaria into 5mm (1/4 inch ) pieces and place in a bowl. Add the brandy
and water and soak overnight.
Pudding
225 (8oz) dried figs, sliced finely
115 (40z) walnuts chopped
1 carrot grated
1 eating apple,grated
115 (4oz ) butter, coconut oil or dairy-free spread
1 tablespoon molasses
1 tablespoon of runny honey
85g (3oz ) molasses sugar or dark sugar
175g (6oz ) plain flour, spelt flour or your favourite gluten-free flour
2 teaspoon gluten and wheat-free baking powder
1/2 teaspoon bread soda
2 eggs
To prepare the pudding
Grease a 1.5 litre (2 1/2 pint) pudding basin; if steaming in an oven, preheat to 180C /350 F/Gas mark 4.
Combine the brandied Alaria, figs walnuts, carrot and apple in a large mixing bowl and set aside.
Melt the butter, coconut oil or spread with the molasses honey and sugar in a small saucepan and set aside to cool. Meanwhile mix the flour with the baking powder and bread soda.
Tip the slightly cooled butter/oil and sugar mixture into a mixing bowl with the fruit and walnuts. Mix to combine and beat the eggs in one at a time .
Add the flour, a little at a time until very well combined, then tip into the prepared pudding basin. Secure the lid snugly using a layer of greaseproof paper if necessary
To steam
Place the pudding basin on an upturned ovenproof saucer in the bottom of a large saucepan. Add enough boiling water to come two-thirds of the way up the basin, simmer for 2 hours either in the oven or on the stove. Top up with water as necessary. Serve the pudding by turning out onto a flat plate.
Praline Sauce
115g (4oz) molasses sugar
55g (2oz ) walnuts
115g (4oz) butter, coconut oil or dairy-free spread
a generous dash of cream, cow, goat, soya or oat
To prepare the praline sauce
Melt the sugar in a saucepan over a medium heat. Add the walnuts and swirl around in the sugar until coated, taking care not to burn the mixture.
Lift out the coated walnuts with a slotted spoon and place on greaseproof paper. Allow to harden into praline. When the mixture has cooled fold the greaseproof paper over the praline and break the praline up with a wooden rolling pin.
Melt the butter/oil with the sugar still remaining in the saucepan. Add the cream and simmer until it forms a toffee sauce.
Spoon the sauce over the pudding and add the crushed walnut praline Best served piping hot .
Walnut and nori Chocolate brownies
Nightshade & soya free; can be dairy, lactose, nut, gluten and wheat free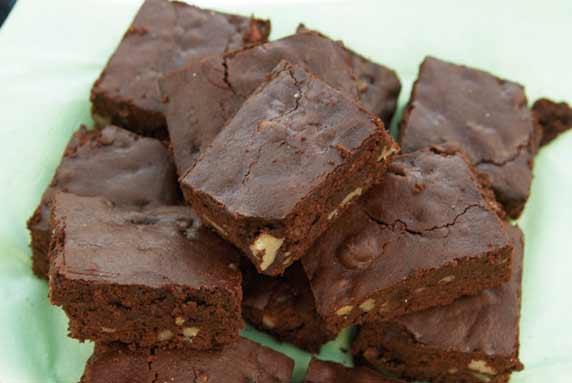 The flavour of the nori pairs brilliantly with the chocolate and also does a superb job in keeping the brownies moist and dense. You will never make them any other way.
Seaweeds used ; Nori
Makes 16 small brownies.
4-5 (I sheet ) nori, torn and soaked in a few tablespoons of tepid water, mixed to a paste using a fork and set aside.
55g (2oz ) butter, coconut oil or dairy-free spread
100g (3 1/2 oz ) chocolate, 70% Cocoa solids
1 tablespoon of cocoa powder
100ml (3 1/2 floz ) whatever milk you can tolerate
150g (5oz) dark brown sugar or molasses sugar
1 teaspoon vanilla extract
3 eggs beaten
150g (5oz) spelt flour or gluten-free flour
1 1/2 teaspoon baking powder
175g (6oz) walnuts roughly chopped
85g (3oz) dairy-free chocolate broken roughly
Preheat the oven to 180 c/Gas 4; oil a 20-22cm (8–9") square tin.
Melt the butter or oil and 70% cocoa chocolate in a large glass bowl set over a saucepan of gently simmering water.
Stir the cocoa powder half the milk and the nori with soaking; water mix well.
Mix together the molasses or brown sugar the other half of the milk and vanilla extract Allow to cool and add the eggs.
Mix the spelt or flour and baking powder in a bowl and add to the chocolate mixture Stir in the walnuts and plain chocolate. Add another drop of milk if too dry.
Pour into the prepared tin and place in the oven Bake for 20minutes.
Check to see that the top has formed a light brown crust and started to crack. The edges should be firm and the centre look a little undone It is better this way as it will continue to cook and set when it comes it out of the oven.
Cool in the tin cut into squares.
Cook's tip
Add 55g(2oz) dried cherries or goji berries instead of 55(2oz) of walnuts for even more added luxury