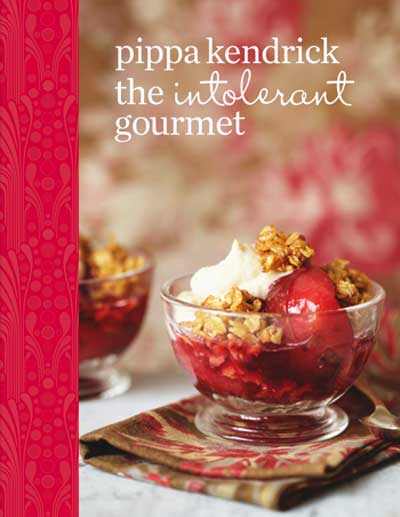 The Intolerant Gourmet by Pippa Kendrick

It is not very often that we get excited about cookery books. The photography – yes, that can be interesting – but the recipes. Well, lots of them are fine but... However, we did get very excited about Pippa Kendrick's Intolerant Gourmet.

It is not just that the recipes are interesting, imaginative and delicious (yes, they really are – we tried....) but that she has found new and exciting ways of creating totally freefrom (gluten, dairy, egg, soya – but not nut) versions of classic dishes which really work.

Take the spaghetti carbonara below – not a dish that most people would even think of trying to make. But by combining ground toasted pinenuts with oat cream she comes up with an excellent alternative to the runny egg and textured, tasty Parmesan that normally give a carbonara its delicious, unctuous coating.
We were even more intrigued by her Victoria sponge with strawberry and vanilla cream which is not only gluten and dairy-free but egg and soya free. The sponge, for which she uses Organ's amazing egg replacer made from potato starch and tapioca flour, is quite skinny and not as light or spongy as a standard Victoria sponge, but it definitely not chewy and has a good flavour. Meanwhile, her vanilla cream, made from cashew nuts, almond milk and agave syrup, was absolutely delicious. On the list to try (and I suspect that they will be equally good) are her vanilla ice cream made from almond and oat milk and her crusty while loaf which also manages to be yeast free. She uses Doves Farm flour, Orgran egg replacer, rice milk, lemon juice and sparkling water.... She maintains that it is truly fail-safe and we can't wait to check it out...
Now, to be fair, to create these freefrom concoctions, Pippa does rely heavily on many of the excellent freefrom ingredients which have come on the market over the last few years (Doves Farm gluten-free flours, Oatly oat cream, Pure sunflower spread, Orgran egg replacer), but her other recipes (those which are more naturally 'freefrom') are just as good and imaginative.
We tried the Butterflied leg of lamb with olive and mint tapenade, for example, which we combined with her Winter squash and chestnut bake – both seriously mouth watering. We also really fancied the Spaghetti with asparagus and lemon pesto, the Peppers stuffed with Gado Gado (chilli and ginger) sauce, the Lemon and cashew nut rice and the Spiced parsnip quinoa – not to mention the Mocha fudge cake, the Strawberry and lime sorbet and the Chocolate and pear puddings below.......
All in all, as you can see, we were pretty keen! So would thoroughly recommend a purchase, either for your self or for a food intolerant friend. You will be very popular!
The Intolerant Gourmet by Pippa Kendrick is published by Collins at @£20. You can buy it here on Amazon.
And if you want to check out any more of Pippa's recipes take a look at her site – www.theintolerantgourmet.com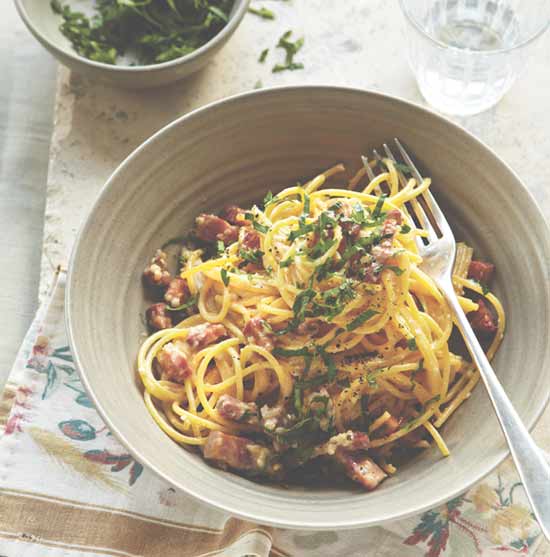 Spaghetti Carbonara, with its rich sauce of egg yolks and cheese, may not be the first dish you'd expect to find in an intolerance-friendly cookbook. To try and reproduce this medley of textures and flavours for a dairy, egg and gluten-free version of the recipe, I've used a combination of pine nuts, toasted and ground, and oat cream to recreate the depth and bite that you would get from mixing egg yolks and Parmesan cheese. I've included pancetta, as in the original dish, plus a scattering of parsley to add a fresh note. This is a real winner for autumn and will have you feeling cosy and warm before you've even taken the first mouthful.
Serves 4
50g/13/4oz pine nuts
150ml/5 floz soya or oat cream (NB. If you use Oatly oat cream, it is not totally gluten free but very low gluten)
175g/6oz smoked pancetta
2 fat cloves garlic
small bunch flat leaved parsley
1 tbsp olive oil
350g/12 oz gluten-free spaghetti
sea salt and freshly ground black pepper
In a heavy-based frying pan, dry fry the pine nuts over a medium-high heat for 3–4 minutes or until golden brown, shaking the pan regularly to ensure that they don't burn. Remove from the heat and allow to cool slightly. Once cool enougn to handle, use a food processor or pestle and mortar and grind them to the consistency of fine breadcrumbs.
Mix the ground pine nuts and oat cream together in a bowl, add 1/2 teaspoon salt and whisk together until you have a rich and smooth sauce.
Cut the pancetta in 5mm/1/4 inch cubes, crush the garlic and finely chop the parsley. Pour the olive oil into the heavy-based frying pan and place over a medium–high heat, then add the pancetta and garlic and sauté for 4–5 minutes or until gold and crispy.
Meanwhile, bring a large saucepan of salted water to the boil, add the spaghetti and cook until al dente following the instructions on the packet – usually 10–12 minutes, depending on the brand of pasta. While the spaghetti is cooking, pour the cream sauce over the fried pancetta and mix thoroughly, then heat through gently so that the sauce becomes hot but without boiling.
Once the spaghetti is cooked, drain and then return to the pan, pour over the carbonara sauce and combine gently, ensuring that the spaghetti is entirely coated in the sauce. Serve hot, sprinkled with the chopped parsley and a little freshly ground black pepper.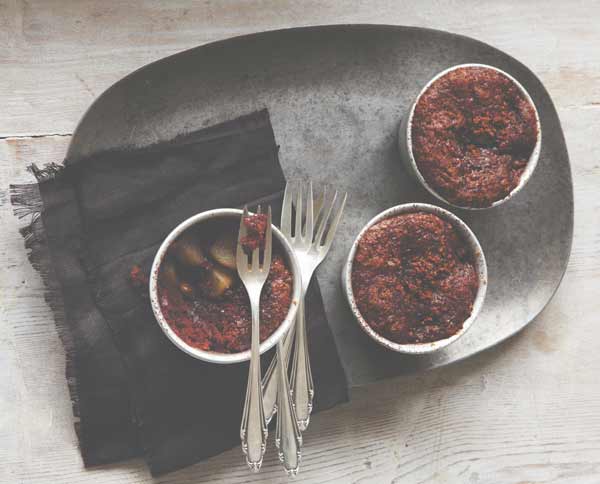 Pear and chocolate work wonderfully well together and these individual puddings are a real treat to eat. The top of the pudding produces a light crunch as you bite into it, giving way to a rich chocolatey centre, studded with little bursts of tender, juicy pear. Always use pears that are good for eating raw, such as Comice, as well as fairly ripe, as this makes all the difference to the flavour.
Makes 4 puddings
50g/1 3/4oz Pure sunflower spread (dairy-free margarine) plus extra for greasing
2 tbsp ground flax seeds
1/8 tsp baking powder
2 ripe pears
100g/3 1/2 oz gluten-free self-raising flour (ideally Doves Farm)
2 tbsp cocoa powder plus extra for dusting
125g/4oz golden caster sugar
6 tbsp rice milk
4 heaped tsp soft dark brown sugar
4 tbsp boiling water
You will need four 8cm/2inch diameter ramekins for this recipe.
Preheat the oven to 180C/350F/Gas mark 4 and lightly grease the ramekins.
Place the ground flaxseeds and baking powder in a small bowl and mix with 3 tablespoons of water, then set aside to thicken while you peal and core the pears and chop them into 1.5cm/5/8inch chunks.
Next melt the margarine in a small saucepan over a low heat, then remove from the heat and allow to cool but not to set.
Sift the flour and the cocoa powder into a large bowl, then tip in the caster sugar and stir together. Place the melted margarine and the flaxseed mixture in a separate bowl, add the rice milk and whisk until combined. Pour into the flour and sugar and continue to whisk together until smooth, then fold in the pear pieces.
Spoon the mixture into the ramekins and place on baking tray. Evenly sprinkle the brown sugar and a little extra cocoa powder over each pudding, followed by 1 tablespoon of boiling water. Place in the over and cook for 25 minutes or until a cocktail stick inserted into the centre of each pudding comes out clean. Serve while they are still warm.