Seriously Good! Gluten-free cooking for Kids
by Phil Vickery
Phil Vickery has now added another book to his library of gluten-free cookbooks – this one aimed at children, or at least at their parents! Although there is a good section with relatively simple and cheap recipes for teenagers or coeliac students having to cook for themselves for the first time – such as the lovely colourful Mushy Pea Cakes below.
However, Phil starts at the very beginning with baby foods – some of which, with a little spce tinkering, can also be turned into nice adult dishes – such as the Creamy Carrot and Lentil Dahl below. Moving on, toddler foods include fish pies, vegetable hashes, sausage casseroles and frozen fruit pops. For the 5–15-year-olds thereare then a selection of 'everyday meals' including lots of rice, pasta and poratoe disehs as well as a few classics such as Coq au Vin an Apple Crumble. Then the teenage section – all the classics – Green Thai curry, Lasagne, Beef Chilli, Pork stir fry and Tunaand sweetcorn pasta bake!
There are two short sections on lunch boxes (salads, filled pitta bread or rolls and the Sweet Potato and Pecan Brownies below) and snacks (Tortilla chips, dips, Chicken iceberg parcels) and then a final few suggestions for party food inclduing a very tasty looking Cherry Tomato Tortilla, a Bacon, Leek and Gruyere Quiche and, of course, a Squidgy Chocolate Cake!
Seriously Good! Gluten-free Cooking for Kids by Phil Vickery is published by Kyle Books in association with Coeliac UK, priced £14.99. Photography: Kate Whitaker You cna buy it here on Amazon.
Creamy carrot and lentil dhal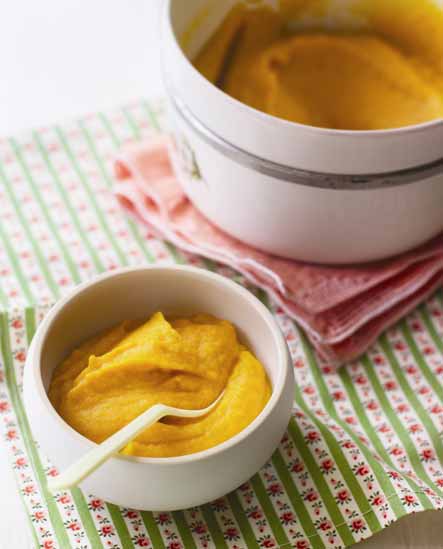 This is mildly spiced for babies. Tinker with the spices if you want a more adult accompaniment:
I would add crushed garlic and equal pinches of fennel, mustard and fenugreek seeds in with the
onions, and then finish with a squeeze of lime and some fresh coriander.
Serves: 4
PREPARATION: 10 MINUTES
COOKING: 20 MINUTES
1 tablespoon rapeseed or olive oil
2 medium carrots, diced
1 small onion, finely diced
pinch of ground cumin
pinch of ground turmeric
75g red lentils
300ml vegetable stock (use a gluten-free, reduced-salt vegetable stock cube or homemade stock)
1 tablespoon natural yogurt, optional
Heat the oil in a medium pan and saute the carrots and onion with the spices for a few minutes. Stir in the lentils and stock, then simmer for approximately 20 minutes or until the lentils and vegetables are soft.
Add more water if necessary, but leave it quite thick.
Blend the mixture using a hand-held blender or food processor. Stir the yogurt in at the end, if using.
HINT
• The yogurt is optional, in case of sensitivity to dairy foods.
To store: Keep in the fridge for up to 3 days and reheat thoroughly before serving.
To freeze: Cool and transfer to ice-cube trays to freeze in convenient portions. Defrost completely before reheating thoroughly.
Mushy pea cakes with sweet soft onions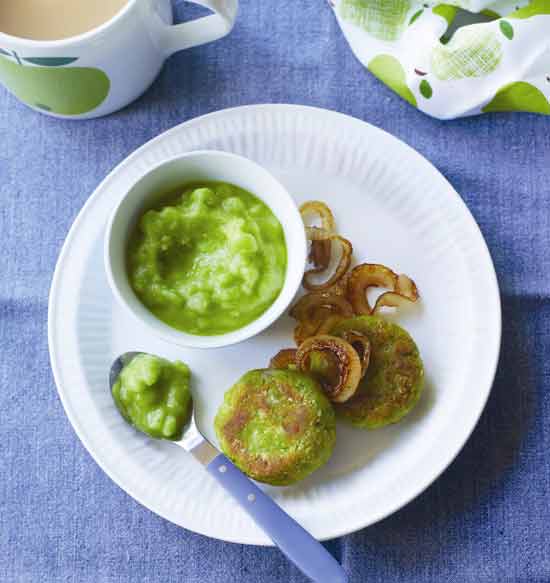 A great dish for a filling meal, really tasty and so cheap too – I absolutely love it! I once cooked these pea cakes on the telly and got a great response.
SERVES: 4
PREPARATION: 15 minutes
COOKING: 15 minutes
For the sauce
300g can mushy peas
2 tablespoon olive oil
pinch of gluten-free, reduced-salt
vegetable stock cube
dash of vinegar
salt and freshly ground black pepper
For the pea cakes
300g can mushy peas
4 tablespoons gluten-free dried
breadcrumbs
½ teaspoon Madras curry powder
½ teaspoon ground cumin
½ small onion, finely chopped
1 garlic clove, crushed
dash of vinegar
4 tablespoons cornflour or
arrowroot
olive oil, for frying
Place all the ingredients for the sauce into a small pan and bring to the boil, then keep warm.
To make the cakes, place the peas, breadcrumbs, curry powder, cumin, chopped onion, garlic and vinegar in a mixing bowl and stir really well to combine.
Divide the cake mixture into 8 small balls, about the size of a walnut, then flatten slightly. Dust the patties in the cornflour or arrowroot.
Heat some olive oil in a large non-stick frying pan. Fry the cakes for 3–4 minutes on each side, then place on kitchen paper to drain.
Place a little sauce on 4 warm plates, top with a warm onion sliceand finally top with a couple of patties. Serve any remaining sauceseparately.
To store: Keep the uncooked patties in the fridge for up to 2 days
and cook as above before serving. Keep the sauce in the fridge for up
to 2 days and reheat thoroughly before serving.
To freeze: Cool the uncooked patties and the sauce and freeze
in separate airtight containers. Defrost the patties and sauce
completely. Cook the patties as above and reheat the sauce
thoroughly before serving.
Sweet potato and olive oil pecan brownies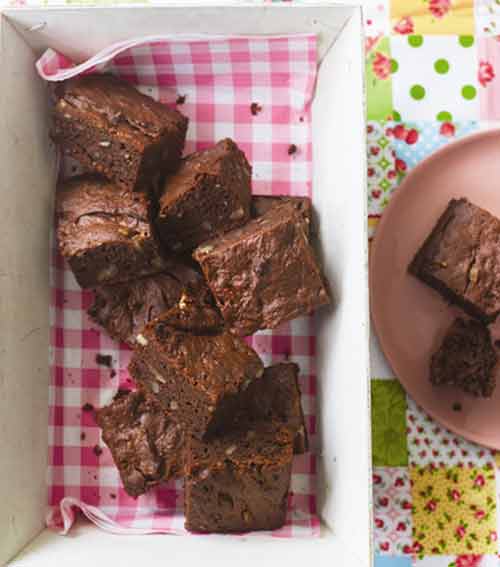 Adding vegetables to cakes has become more and more fashionable over the past few years. In my
book Seriously Good! Gluten-free Baking I used pickled beetroots and also courgettes. Here the
texture of sweet potato really adds to the squidginess of the brownie.
MAKES: 12
PREPARATION: 15 MINUTES
COOKING: 1 hour 20 minutes
2 medium sweet potatoes oil, for greasing
150g gluten-free dark chocolate, chopped
100ml light extra virgin olive oil
125g Gluten-free Flour Mix B (see below)
1 teaspoon gluten-free baking powder
¼ teaspoon xanthan gum
150g pecan nuts, roughly chopped
2 medium eggs
150g soft brown sugar
Preheat the oven to 190°C/gas mark 5.
Bake the sweet potatoes in their skins for about 45 minutes. When they are soft, slice them in half and scoop out the flesh. Weigh out approximately 250g of potato flesh and transfer it to a mixing bowl.
Increase the oven temperature to 200°C/gas mark 6. Line a 20cm square baking tray or dish with baking parchment and oil well.
Place the chocolate and extra virgin olive oil in a heatproof bowl over a pan of simmering water, or heat them gently in a microwave, until the chocolate melts.
Combine the gluten-free flour, baking powder, xanthan gum and pecans together in another bowl.
Beat the warm chocolate and oil into the warm potato and then add the eggs and sugar. Finally add the flour mixture and stir well.
Pour into the tin, and bake for about 30 minutes or until set and cooked.
Cool slightly, and then cut into squares.
HINT
• This recipe is not recommended for younger babies because it
contains nuts. Very occasionally babies can have a nut allergy but
they should be safe from 6 months.
To store: Keep in an airtight container for up to 2 days.
To freeze: Cool and freeze in an airtight container. Defrost
completely before serving.
Gluten-free Flour Mix B
MAKES: 1KG
PREPARATION: 5 MINUTES
300g fine gluten-free polenta or
chestnut flour
500g brown rice flour
200g cornflour
Mix all the flours together very thoroughly or put into a food processor and pulse until mixed. Store in an airtight container and use by the soonest 'best before' date.