Gluten Free Secrets by Anette Harbech Olesen and Lone Bendtsen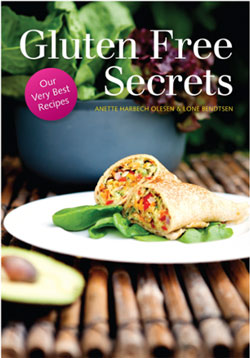 The front cover of Gluten Free Secrets states 'our very best recipes' and this certainly seems to be the case. Every one of these recipes looks like a winner. Not the sort of recipes that you admire and dig out on special occasions but the sort of thing you would like to cook and eat regularly.

The book has the obligatory introduction to gluten – what it is, how you might react to it, getting tested and what you can cook with instead.  It is an excellent and informative overview from the author Anette Harbech Olesen who teaches, lectures and blogs about the links between diet and health.

The recipes are divided into 4 sections; gluten free mornings, popular packed lunches, dinners for hungry kids and food-loving grownups and Christmas and other celebrations. Most of the recipes are temptingly short and are accompanied by beautiful rustic style full page photographs.

There are a real variety of flours and ingredients used which makes for some interesting and original, not to mention healthy recipes. From green quinoa rolls and oat baguettes to bean-crust carrot quiche and the world's best gluten free burgers.  Most of the recipes are also egg, dairy, sugar and yeast free. For those that are interested in healthy as much as gluten free this would be a welcome addition to your collection.
Gluten Free Secrets is published by Sophia Health, £9.99
You can also buy Gluten Free Secrets from Amazon here.
---
Savoury Wraps
Gluten, lactose, milk, nut, peanut, sesame, soya & wheat free
Oat baguettes
Corn, egg, gluten, lactose, milk, nightshade, nut, peanut, sesame, soya & wheat free
Chocolate cake with black beans and chili
Corn, gluten, lactose, milk, peanut, sesame, soya & wheat free; can be egg & nightshade free
---
Gluten, lactose, milk, nut, peanut, sesame, soya & wheat free

Serves 2
Ingredients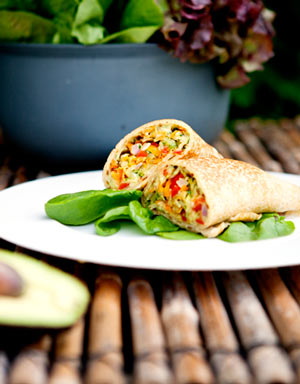 170g mixed rice flour and coarse cornmeal or polenta
2 eggs
25g extra virgin olive oil
1 tsp unrefined sea salt
Water or rice milk
Method
Whisk together all the ingredients to a fairly runny batter.
Let the dough rest for about 30 minutes.
Fry the pancake wraps in a little virgin coconut oil and keep them warm between two plates.
Filling

3 carrots
1 red onion
1 red pepper
white or green cabbage
oregano, fresh or dried
unrefined sea salt and freshly ground pepper

Guacamole
2 avocados
2 garlic cloves
Juice of 1 lemon
Extra virgin olive oil
Method
Rinse, trim and grate or chop all the vegetables finely, then sauté them briefly in a little extra virgin olive oil.
Blitz all ingredients for the guacamole in a blender until smooth and add more garlic if you like.
Spread the guacamole on each pancake, add the vegetables, roll up the wraps and serve im­mediately with a nice salad if you like.
The wraps are also great with chicken and well suited for a packed lunch.
Tip:The pancakes can also be sweetened with agave syrup or coconut sugar and served as a dessert with ice cream and berries.


Corn, egg, gluten, lactose, milk, nightshade, nut, peanut, sesame, soya & wheat free

These wonderful oat baguettes are perfect with dinner or for the lunch box.
3 large or 9 small
Ingredients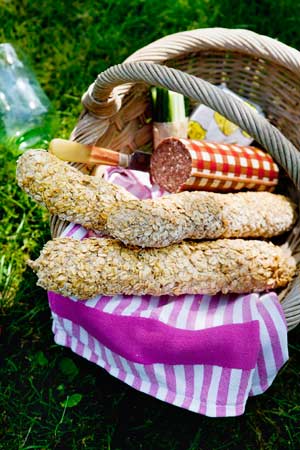 500ml water at about 40°C/105°F
10 g psyllium husks
1 tsp salt
100g gluten-free rolled oats, plus extra for coating
300g gluten-free oat flour (easy to make from rolled oats using
a coffee grinder)
Olive oil, for brushing
Method
Stir the psyllium husks into the water and set aside
for 15 minutes, then mix for 2 minutes with a hand mixer.
Add the remaining ingredients and mix well until the dough has the consistency of thick porridge.
Wet your hands and shape the dough into baguettes.
Brush them with olive oil, roll them care­fully in oats and place them on a baking sheet.
Bake for 30 minutes in the oven at 200°C/400°F/gas 6 or 190°C/375°C/gas 5 using the fan function.
If your oven has a steam function, let the dough rest for 20 minutes on the proving programme, then bake the rolls as specified above, adding steam from time to time.

Chocolate Cake with Black Beans and Chili
Corn, gluten, lactose, milk, peanut, sesame, soya & wheat free; can be egg & nightshade free
Ingredients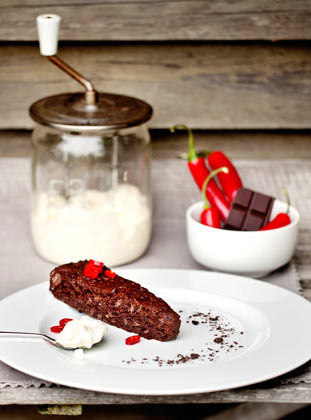 125g dates
150 black beans (75g dry black beans makes 150g after cooking)
2 eggs or 100g egg substitute
50g ground almonds
40g virgin coconut oil
75ml almond milk
15g cocoa powder
75 dark chocolate (70% cocoa solids),
roughly chopped
¼ fresh chili (optional)
½ tsp baking powder
½ tsp baking soda
½ tsp unrefined sea salt

Method
Soak the beans for 8-10 hours, drain,
then cook them for 1 hour in fresh water.
Puree all ingredients except the chocolate in a food processor.
Stir in the chocolate, then pour the batter into a greased cake tin of about 20x25cm.
Bake the cake for 25-30 minutes in the oven at 180°C/350°F/gas 5 or at 170°C/325°F/gas 4 using the fan function.
Serve the chocolate cake with whipped cream or whipped coconut cream topped with goji berries or fresh berries.

If you are intolerant or allergic to cow's milk, you can make whipped coconut cream instead. Put a tin of coconut milk in the fridge and leave it there for a few hours. Open it and pour off the water, then beat the coconut cream with a bit of agave syrup or coconut sugar and a bit of vanilla or cinnamon.

You can buy Gluten Free Secrets from our new bookshop here.