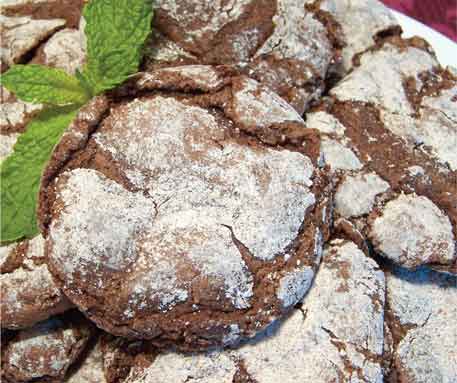 Choco crinkle cookies - see below
The Food Allergy Cookbook by Carmel Nelson and Amra Ibrisimovic

School friends Carmel and Amra come from ethnic backgrounds where food is hugely important as 'an expression of love, caring, respect, and family' so finding themselves with serious food allergies which forced them to refuse the lovingly prepared and time-honoured dishes was distressing and difficult. Months and years of honing their own allergen-free recipes (Amra cannot tolerate wheat, barley, dairy, soy, or corn, Carmel cannot tolerate dairy, wheat, oats and barley) and working out strategies for eating out without offending family or friends or giving themselves an allergic reaction, finally gelled into a decision to commit their joint experiences to paper ? and resulted in their Food Allergy Cookbook.
A very helpful introduction tells their stories and gives lots of useful advice on dealing with food allergies in social situations and when travelling. This is followed by a great selection of recipes – both Amra's traditional Bosnian dishes and many classical American favourites. And all, obviously, wheat, barley, corn, soya, oats and dairy free!
The book is not available in the UK yet but you can buy from Amazon at the very modest price of $13.78 (well under £10) so, even with postage, it will be quite cheap.
Stuffed Peppers Bosnian Style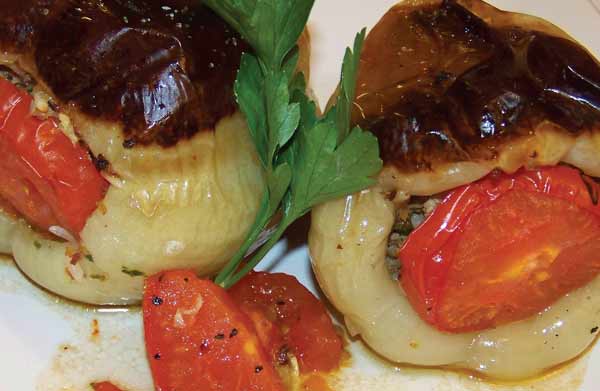 Serves 8

1 lb turkey, ground
½ cup uncooked white rice, or partially coked brown rice
1 large onion, finely chopped
2 cloves garlic, minced
1 small carrot , grated
1 ½ teaspoons gluten-free vegetable soup powder
1 teaspoon fresh dill weed,
chopped
4 tablespoons fresh parsley, chopped
8 medium Hungarian/gypsy peppers
1 medium tomato
salt and pepper to taste

1. Preheat oven to 425ºF.
2. In a food processor combine the onion and garlic and pulse until chopped to your liking. Fry in a pan until
onions become translucent. Add ground turkey and fry until completely brown. Remove from the stove and add chopped carrot, rice, vegetable soup powder, dill weed, parsley, salt and pepper.
3. Wash and core the peppers. Using a fork, pierce each pepper a couple of times to let the steam escape
during baking.
4. Slice the tomato into eight disks. Stuff each pepper with the filling then use a tomato slice to close the
opening to the pepper. Use remaining tomato slices for garnish and for covering the bottom of the baking pan.
5. Sprinkle peppers with a little oil and place in the oven. Bake for 40 minutes, until skin is blackened.


Note: For a more rustic feel, take 3 medium tomatoes, slice into wedges, and spread on the bottom of the
baking pan.

Choco Crinkle Cookies

Makes about 2 dozen cookies

3 eggs
360g/12oz sugar
100g/4 oz unsweetened chocolate
120ml/4floz vegetable oil
2 teaspoons gluten-free baking powder
2 teaspoons vanilla
300g/13oz (approx) Flour Mixture (equal quantities –75g/3oz – each of rice flour, tapioca flour, potato flour and potato starch. Potato starch is the fine, white starch equivalent of UK cornflour; potato flour is a coarser flour which you should find in health food stores. If you cannot find the potato flours and you can tolerate corn you could substitute maize flour and cornflour.)
100g/40z icing sugar
1 tablespoon ground cinnamon

1. Preheat oven to 375°F.
2. Blend together eggs, sugar, chocolate, oil, baking powder, and vanilla. Slowly add flour until dough is
stiff and hard to stir. Refrigerate for 1–2 hours.
3. Using a zip-top bag, combine powdered sugar with cinnamon. Portion out the cinnamon/sugar mix in a
shallow plate. Roll dough into 1-inch balls and roll balls in powdered cinnamon/sugar mix. Place on baking pan 2 inches apart and bake for 8–10 minutes.
4. As soon as the cookies are removed from the oven take the flat bottom of a glass and carefully squish the cookies flat. Let cool and serve.