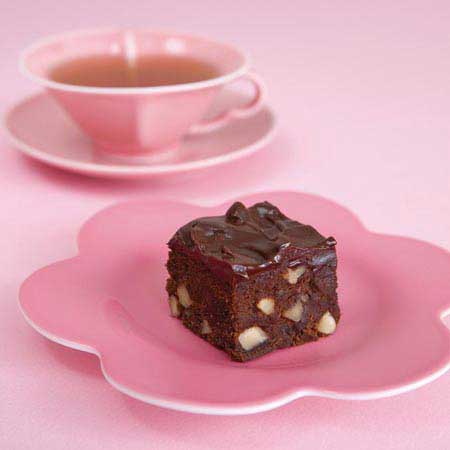 Freefrom Triple chocolate brownies
Sharing Sweet Secrets - gluten and wheat free
by Pamela Moriarty
Pamela Moriarty, as a coeliac of 20 years standing, a caterer and a restaurateur, is in an ideal position to devise gluten-free desserts - and has done so with great panache!
Sharing Sweet Secrets includes small treats (such as amaretti biscuits or muffins), cakes, tarts, crepes, crumbles, custards, fruit and meringue desserts, mousses and jellies, puddings and tarts - such as the delicious pear and almond tart illustrated below.
The recipes are simple to follow, some with 'do-ahead' elements so that the final assembly can be quick and easy, while the photographs by Jacqui Way are, as you can see, totally mouth watering. How wonderful to have another free-from book with really luscious and exotic photographs!
Although the book is Australian most ingredients will be easy to find. In fact Pamela Moriarty uses quite a lot of self-raising gluten-free flour so you could substitute the Doves Farm self raising flour. And do not be alarmed by the measurements - mainly in cup sizes. There is a conversion chart at the back of the book.
Sharing Sweet Secrets Gluten and Wheat Free by Pamela Moriarty is published by Murdoch Books at £12.99. You can buy it here on Amazon.

triple chocolate brownies
Makes approximately 16 squares

shared secrets
Ganache can be prepared while brownies are baking.
Store brownies in an airtight container in the refrigerator.
The brownies keep well for a week.
The brownies may be frozen.
To cut the brownies use a knife that has been dipped into hot water. Dip and wipe the blade after each cut.
for the ganache
50g dark choc bits
60ml cream
Combine the chocolate and cream and melt in a microwave (on medium for 1 minute) or over a low flame. Stir well and set aside.
for the brownies
100g unsalted butter, chopped
100g dark choc bits
2 eggs
110g brown sugar
55g caster sugar
120ml Greek style yogurt
2 tbsp runny honey
35g white rice flour
1 tbsp maize flour
1 tbsp potato flour
4 tbps Dutch style cocoa
50g chopped almonds or other nuts
50g white choc bits
Grease an 18cm square cake tin and line with greaseproof paper.
Preheat the oven to 180C/350F/ Gas mark 4.
Melt the butter and chocolate in the microwave (on medium for 90 seconds) or over a low heat until melted. Stir then cool slightly.
beat eggs and sugars together in the small bowl of an electric mixer until light and creamy.
Add combined melted chocolate and butter, yogurt and honey, beating well.
Sift flours and cocoa together and fold into combined mixture.
stir in chopped almonds and white choc bits.
Spread in prepared tin.
Bake for about 25 minutes. Do not overbake brownies as they are best a little underdone.
Cool in tin for 5 minutes before turning out onto a wire rack.
Cool completely before spreading with ganache and leave for an hour to allow ganache to set before cutting with a knife which has been dipped in hot water - see shared secrets.
Serve cut into 4.5cm squares.