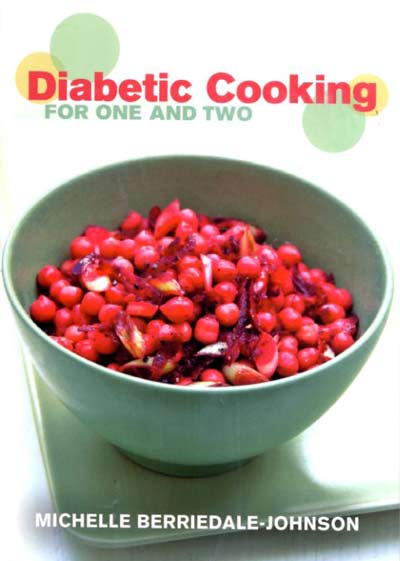 Most recipes in most cookery books (and we are guilty of this on the FFRM site too...) give quantities for four or six people, yet the chances are that the vast majority of people spend most of their time cooking for one or two and not for four or six! So when Grub Street asked me to do a diabetic book with recipes designed for just one or two people, it seemed a sort of no brainer!
The recipes in the book are therefore designed for one or two people but can easily be scaled up if you are entertaining – but remember to 'scale up' ingredients such as cooking oil and seasoning slightly less than the main ingredients. I hope that all the dishes will be good enough for readers to want to eat them again so, even if they are on your own, two helpings will be welcome!
All the recipes are for dishes which could be eaten by anyone, diabetic or not – and most are suitable, or could be made so with a minimum of adjustment, for those with other dietary restriction such as gluten or dairy.
All are made from 'real' food, none are either lengthy or complicated and all are designed to encourage readers to cook and experiment on their own thus making cooking for a diabetic diet an exciting voyage of discovery rather than a chore!
Published by Grub Street @ £14.99. You can buy it at Amazon here.
Salami and okra savoury
Corn, dairy, egg, gluten, lactose, nightshade, nut, soya and wheat free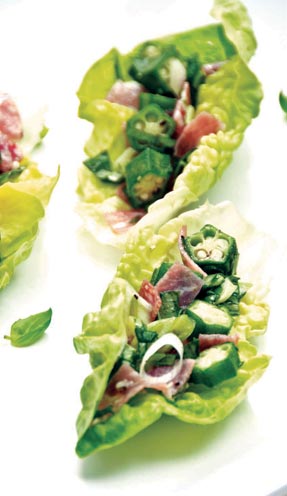 This is a delicious little bonne bouche which you could have as a starter – or pile it on toast and have it for lunch.
Serves 1 (double quantities for 2)
3 slices of salami of your choice
3 pieces of okra
1 spring onion
1/2 tbsp cider vinegar
1 tbsp olive oil
black pepper
2 sprigs fresh basil
4small lettuce leaves
Cut the salami into small squares. Top the okra and slice
thickly. Trim the spring onions and slice thinly horizontally.
Mix all together in a bowl and dress with the vinegar, oil and black pepper - the salami will probably be salty enough for you not to need any extra salt.
Chop four springs of the basil and mix it gently in.
Lay the lettuce out on your plate and pile the salami mixture in the middle. Decorate with the remaining sprigs of basil and serve.
Alternatively, lay the lettuce leaves on a slice of wholemeal toast, then pile on the salami mixture.
Note
Okra, which is excellent for diabetics as its gooey, mucilaginous juices are very helpful for blood sugar control, is normally served cooked but, in fact is delicious raw. Nice crisp on the outside and soft inside, it does not taste remotely gooey and makes a great contrast to the soft salami.
Fillets of cod with chilli
Corn, dairy, egg, gluten, lactose, nut, soy and wheat free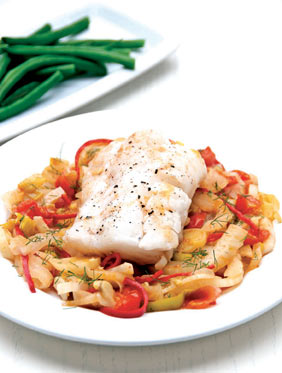 This is a very simple dish but looks – and tastes – really good. The fieriness of the chillis goes well with the 'cool' flavour of the fish – but you need to be careful not to overdo them!
Serves 1 (double quantities for 2)
1 tbsp olive oil
1 small leek
1/2 head fennel
1 scant tsp dried dill or 2 tsp fresh dill
1/2 small red chilli – more if you want it hotter
5 cherry tomatoes, quartered
1 fillets of cod
30ml/1 floz white wine
sea salt (or seaweed condiment) and freshly ground black
pepper
1/4 lemon
Heat the oil in a smallish pan.
Slice the leeks and fennel finely and add to the pan along with the dill.
Cut the chilli open and remove the seeds and pith –
slice into very thin slivers and add to the vegetables.
Cook, uncovered, for 7–8 minutes or until the fennel is starting to soften.
Add the tomatoes, cover and cook gently for another 15 minutes.
Lay the cod fillet on top the vegetables and sprinkle with salt and seaweed condiment and freshly ground black pepper.
Pour the wine around the sides.
Cover and cook gently for a further 5-7 minutes or until the fish is cooked.
Serve with a wedge of lemon and a green vegetable such as green beans or spinach.
Note
Because cod is one of the most over-fished and threatened of fish species be careful what you buy. Only buy fish that have good sustainable credentials, the most reliable being that of the Marine Stewardship Council. Look for an oval blue badge with Marine Stewardship Council on it.
Beetroot and chickpea or butterbean salad (pictured above)
Corn, dairy, egg, gluten, lactose, nightshade, nut and wheat free
Both chickpeas and butter beans are low on the glycaemic index and both work equally well in this salad – so take your pick! The salad benefits from time to mature so if you have too much it will be fine for at least another 24 hours in the fridge.
Serves 2
1 raw beetroot, peeled and grated
1 x 425g tin chickpeas or butter beans, drained
3 spring onions, trimmed and chopped
1 dessert spoon soya sauce
1 dessert spoon vinegar of your choice
2 tbsp olive oil or 1 tbsp each olive and pumpkin oil
freshly ground black pepper
Mix the grated beetroot thoroughly with the chickpeas and the spring onions. Add the soya sauce, vinegar, oils and pepper and mix again thoroughly.
Cover the dish and heat for 1 minute in a microwave or tip them into a saucepan and warm gently for 2–3 minutes. Warming the chickpeas and beetroot helps them to absorbs the dressing. Set aside for 2–3 hours but do not chill. Mix again thoroughly before serving.
Note
Tinned legumes tend to have a higher glycaemic rating than freshly cooked so if you have the time, it is better to cook your own. However, this does often mean that you have to soak them overnight first so will include some planning ahead. However, you should not stress about this as the increase for canned is only a matter of a few points still leaving both beans in the lower end of the table.
Old fashioned ginger and honey biscuits
Egg, gluten, nightshade, nut, soya and wheat free, can be dairy free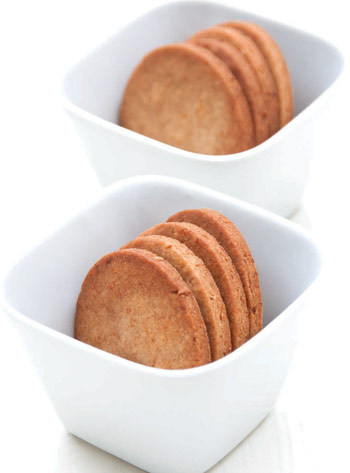 The original of this recipe used black treacle but since honey has a far lower glycaemic load it might be well
to substitute it.
(The recipe in the book is neither gluten nor dairy free, but as with virtually all of the others in the book, it can easily be made so by substituting gluten-free flour and either coconut oil or dairy-free spread for the butter.)
Makes around 8 biscuits
100g sifted gluten-free plain flour
scant ½ tsp ground ginger
40g dark brown sugar
grated rind of 1 orange and 1 lemon
2 tbsp honey
40g butter, coconut oil or dairy-free spread
Mix the flour, ginger, sugar and rind.
Melt the butter with the treacle then add the dry ingredients. Mix to a stiff paste and chill for several hours or overnight - if you try to roll it out too soon it will be too soft to handle.
To bake, heat the oven to 180C/350F/Gas mark 4.
Roll out the mixture to approximately 5 mm / 1/4 inch thickness and stamp it out with a biscuits cutter or cut into shapes with a knife.
Bake in a hottish oven for 12 - 15 minutes taking care not to burn the biscuits. Cool on a rack.
Note
If you wanted to make gingerbread mean, used a gingerbread man cutter (obtainable from any kitchen shop) then give him a face with two currants for eyes, a raisin for a nose and draw in his mouth with a knife point!