Free & Easy Cooking
by Linda Mercer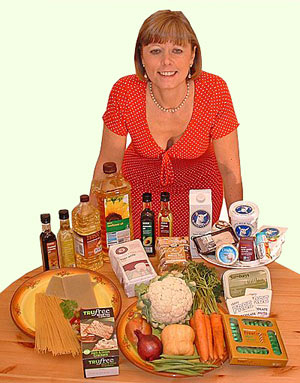 Discount for Foods Matter readers - see below
This cook book was written by Linda Mercer who has allergies to dairy, wheat, gluten and MSG and who also now runs Billy Goat Stuff, chocolates made with goats' milk.
If you can tolerate any of these ingredients, then you can substitute accordingly.
The book has a good selection of everyday dairy, wheat and gluten free recipes that are easy to follow, with colour photographs to help you along.
The recipes include Soups & Stocks, Preserves, Bread, Cakes, Biscuits and Savouries, Puddings & Yoghurts, Salads & Rice dishes. The Main Meals range from Curries and Chapattis, Pork & Chicken Meatballs in Tomato Sauce to Cottage Pie. T
There is information about wheat and gluten free flours, good and bad, antioxidants and a good bibliography section.
Published by Trafford Publishing - ISBN 142517334-9
This book can be purchased from www.BillyGoatStuff.co.uk Recommended Retails Price - £9.99 + p&p or from Amazon here.