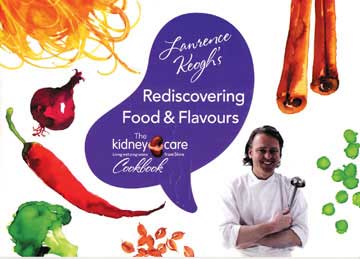 For those who suffer from gluten, wheat, dairy, egg and nut allergies and intolerances it is all too easy to forget that there are many other health issues that can put you on a restricted diet: diabetes, phenylketonuria, epilepsy – and kidney disease.

Lawrence Keogh, well known to TV cookery enthusiasts, suffers from the last of these and, in 2000, had to have a kidney transplant. As a result he is very interested in the dietary restrictions imposed on those with kidney disease (limiting proteins, sodium and phosphorus – found in dairy products, dried pulses, nuts, beer and cola type drinks).

For them, Lawrence has put together this delightful little cookery book, which is available, free of charge, via renal dietitians throughout the UK. As it happens, many of the recipes, such as the two chicken ones below, are, or at least can also be dairy, gluten, egg and nut free!
Update - May 2010.
Lawrence is now creating a series of recipe cards which can be collected in a special folder to be had completely free of charge from your renal dietitians.
Lemon and Ginger Baked Yogurt Chicken with Fresh Curry Leaves
1 free-range chicken cut in 8 portions
juice and zest of 1 lemon
15g each garlic and fresh ginger
1/2 tsp cumin seeds
1/4 tsp ground coriander
1/2 fresh red chilli (approx 5g)
100ml natural yogurt (cow's,
goat's, sheep or soya)
10 twists black peppercorns
10 fresh curry leaves
Remove the skin from the chicken portions and discard. Make incisions into the flesh with a sharp knife. This will allow the spices to permeate right into the meat and enable it to cook quicker.
Place all the other ingredients except the yogurt into a food processor and blend thoroughly, then rub into the chicken.
Add the yogurt and leave in the fridge for, ideally, 24 hours.
Preheat the oven to 220C and place the chicken pieces on a foil lined tray. Bake for approximately 20 minutes.
Remove from the oven and serve with plain rice.
Grilled Chicken Salad with Rosemary and Red Wine Vinegar Pickled Onions
2 red onions sliced in rings
150ml red wine vinegar
5g sliced garlic
6g freshly picked rosemary
100ml extra virgin olive oil
4 skinless chicken breasts
1 cos lettuce
4 spring onions
1 punnet mustard cress
1 stick garlic bread (optional)
freshly milled black pepper
Place a large pan of boiling water on the stove and blanch the onions for approximately 1 minute.
Meanwhile, pour the vinegar into a large deep flat tray and add the garlic and rosemary.
Remove the onions from the pot and whilst still steaming hot, immerse in the vinegar and let them cool.
Lightly oil and season the chicken breast with the pepper and then grill in a stove-top grill pan or under a hot grill for approximately 15 minutes.
When cooked add the olive oil to the onion and season with pepper.
Place on a plate with a few leaves of cos lettuce, soem cress and spring onions and place the chicken to the side to serve.
Return to cookery writers home