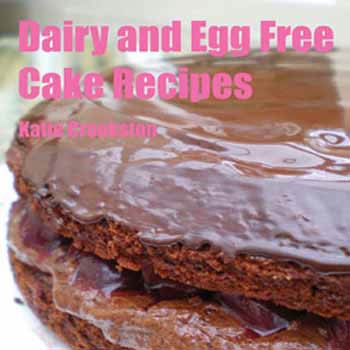 Dairy and Egg Free Cake Recipes
Dairy and Egg Free Cake Recipes
by Katie Crookston

Katie Crookston comes from an allergic family. All the family were allergic to dairy products and eggs, and some were also allergic to soya, citrus fruits, grapes, apples and dates! Fortunately, Katie's grandma was a professional baker who invented the most delicious cakes, biscuits and puddings to eat at home and take to school.
Katie's book of dairy and egg free cakes, which also includes recipes for biscuits, desserts and puddings, bread and sauces, is based on her grandma's recipes (most of which use self raising-flours instead of eggs) and the family's years of experimentation with substitutes for the ingredients that, between them, they couldn't eat! For example, Katie's mum is allergic to all vine fruits so she uses sour cherries and cranberries, or chopped dates or apricots in fruit cakes and puddings for her mum. Katie also indicates on her recipes whether or not the cake can be frozen – so that you can do a whole batch of baking in one go.
Recipes include Squidgy chocolate cake, Spicy carrot loaf, Dark sticky ginger cake, Fruit scones, Lemon drizzle cake, Walnut cake, Eccles cakes, Fruity flapjacks, Oaty walnut biscuits, Passion fruit cookies, Lemon cream biscuits, Mango pudding, Apple and cinnamon pudding, Sticky toffee puddings and the delicious Chocolate cup cakes below – each recipe illustrated with one of Katie's mouth-watering photographs.
You can buy the books as a paperback (£15.99) or as an
ebook (£9.99) directly from Katie's website - www.dairyfreecakerecipes.co.uk or here on Amazon.
Chocolate Cup Cakes

These chocolate cup cakes are light to eat and very tasty, especially for the chocoholics amongst us. The mini chocolate sponges are covered in a thick layer of sticky chocolate icing making them a wonderful chocolatey snack. Quick and easy to make, they are great for children's birthday parties.
Preparation Time: 30 minutes
Cooking Time: 15 minutes
Dairy Free, Egg Free, Nut Free
125g non-dairy sunflower margarine
220g granulated sugar
45ml (3 tbsp) soya milk
45g desiccated coconut
300g self-raising flour, sifted
180ml orange juice
60g cocoa powder, sifted
For the chocolate icing:
125g icing sugar, sifted
60ml cold water (approx)
50g cocoa powder, sifted
Place 24 paper cup cases into two 12-hole bun tins.
Cream together the margarine and sugar in a large mixing bowl, until light and fluffy.
Stir in the milk, but do not worry if the mixture curdles. You may want to use an electric hand whisk to mix in the milk.
Stir in the desiccated coconut, then stir in half the flour and half the orange juice and mix well. Mix in the cocoa powder.
Stir in the rest of the flour and orange juice until combined. You may want to use an electric hand whisk to make sure there are no lumps of flour in the mixture.
Spoon the mixture equally into the prepared paper cake cases.
Bake in a moderate oven at 180°C for about 15-20 minutes, depending on your oven, until cooked and when a skewer is placed into the middle of the cakes it comes out clean.
Cool the cakes on a wire rack.
To make the chocolate icing add the icing sugar and a little water into a small bowl and stir until the icing sugar has dissolved. Add the cocoa powder and stir until smooth and lump free.
When the cakes are cold, spread the tops of the cakes with the chocolate icing.