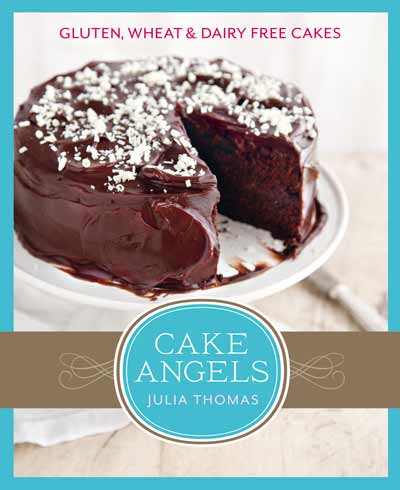 Always a keen baker, Julia Thomas decided to make the shift to being a keen 'freefrom' baker after she had been diagnosed with, and treated for, an aggressive form of breast cancer. After a good deal of research and on the advice of her nutritionist, she banished dairy from her kitchen only to find that she had also banished many of her favourite cakes! Determined not to be beaten, she set about adapting and inventing and was soon baking as delicious dairy-free cakes as she had ever baked dairy filled.
A friend then asked if she could extend her repertoire to include gluten-free cakes for the friend's gluten and dairy intolerant son and she was away! In no time she was baking for friends, and friends of friends, and then friends of friends of friends – until she decided that maybe she should do it commercially. So now she bakes wonderfully pretty and delicious tasting cakes to order in her artisan bakery in Herefordshire and despatches them around he country by courier. Check in at www.cakeangels.co.uk to learn more.
And now she has put a selection of her recipes into a book – easy to cook, easy to follow, pretty and delicious. She mainly uses Doves Farm gluten-free flours, Pure sunflower spread and coconut oil, xanthan gum and a variety of dairy free milks and creams, organic free-range eggs – and lots of chocolate!
As you can see, we have chosen the salted caramel brownies and some orange cup cakes but the book also includes loads of other chocolate cakes, plus sweet breads (Banana, pecan and golden syrup loaf, Bara Brith) sponge cakes of all shapes and sizes, polenta cakes, carrot cakes, gingerbreads, almonds cakes, fruit cakes, flapjacks, brownies and lashings of pretty and tasty cup cakes. And all bound in a nice tough hardback book (ready to withstand plenty of kitchen abuse) with mouth watering pictures – for a mere £16.99! Cheap just to look at the pictures!
Cake Angels by Julia Thomas is published by Collins at £16.99
ISBN 978-0-00-743929-4 You can buy it here on Amazon.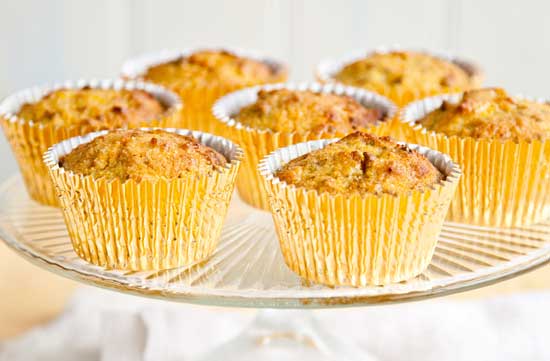 Orange, pistachio and polenta cupcakes with syrup
These cupcakes have a lovely crunchy texture. However, if you prefer you can pour the mixture into an 18cmx27cm (7 x 10inch) baking tin and make a delicious traybake. Just double the quantity of syrup and bake for 30 minutes.
makes 12muffin-sized cakes
preparation: 30 minutes
baking: 25 minutes
cooling: 35minutes
freeze: yes
for the cupcake mixture:
100g/3 1/2 oz pistachio nuts, shelled
2 large eggs
1 tsp vanilla extract
grated zest 1 orange
200g/7oz dairy-free spread
160g/5 1/2 oz caster sugar
60g/2 1/4 oz wheat and gluten-free self raising flour (Doves Farm)
1 tsp xanthan gum
185g/6 1/2 oz coarse polenta
125ml/4 floz orange juice
for the orange syrup:
125g/4 1/2 oz caster sugar
60ml/2 1/4floz orange juice
12 hole muffin tin
Preheat the oven to 180C (160C fan)/350F/Gas mark 4. Line the tin with muffin cases. Toast the pistachios by spreading them out on a baking tray and placing in the oven for 7 to 8 minutes. Remove from the oven, cool and chop finely.
In a small howl, lightly beat the eggs, vanilla extract and orange zest together, then put to one side.
In a large mixing bowl, use a hand held electric mixer at a high speed setting to cream the dairy-free spread and sugar together for about 3 minutes until light and fluffy.
Gradually add the egg mixture on a medium speed setting, mixing well between each addition. don't worry if the mixture curdles slightly; just turn the mixer setting high for a couple of seconds and the mixture will become smooth again.
Carefully fold in the flour, xanthan gum, polenta, orange juice and pistachio nuts. Don't overfold – the ingredients need to be just combined. Divide the mixture evenly among the muffin cases, using an ice cream scoop to ensure an equal amount in each.
Bake in the oven for 20–25 minute or until the cakes are well risen, golden and spring back when touched. If necessary, rotate the tin and finish baking for a further few minutes.
Whilst the cup cakes are in the oven, prepare the syrup. In a small heavy-based saucepan, mix the caster sugar and orange juice together, slowly bringing to the boil and simmer for 1 minute.
Remove the cupcakes from the oven and spoon 3 teaspoons of syrup over each cupcake. Leave the cakes in the tin until the syrup has soaked in. Transfer to a metal cooling rack to finish cooling.
Store in an airtight container for up to 5 days, but not in the fridge.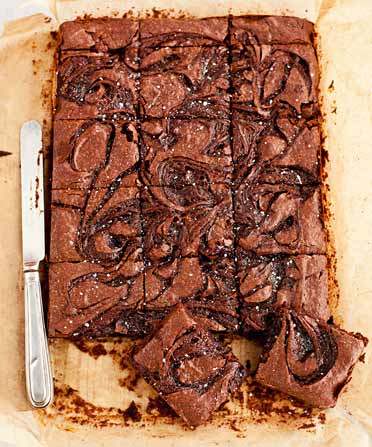 Salted Caramel brownies
The idea of salt in cakes and desserts may seem a little strange, but caramel is a flavour that really benefits from it, intensifying the flavour. I can clearly remember the first time I made this recipe. The anticipation waiting for the brownies to cool enough to eat was so strong that I had to do a little housework to distract myself – and then that first bite, sheer heaven. To make the caramel, you do need a sugar thermometer. They aren't expensive and will be a great investment, especially if you like caramel and toffee.
makes:12 or 16 squares
preparation: 50 minutes
baking: 35 minutes
cooling: 1 hour 20 minutes
freeze: yes
for the base mixture:
140g/5oz of good quality(60% cocoa) dark dairy-free chocolate
55g/2oz dairy-free milk chocolate
115/4oz dairy-free spread
3 large eggs, beaten
280g/10oz golden granulated sugar
2 tsp vanilla extract
145g/5oz wheat and gluten-free plain flour (Doves Farm)
1tps xanthan gum
1/2 tsp salt
3 tbsp cocoa powder
fine sea salt for decoration
for the caramel base:
475g/1lb1oz caster sugar
1 tbsp golden syrup
175ml/6floz soya double cream
1 tsp sea salt
18x27cm/7 x 10 inch shallow baking tin
sugar thermometer
Preheat the oven to 180C(160C fan)/350G/Gas mark 4. Grease and line the baking tin, leaving enough lining paper hanging over the edge so that you can lift the brownies out easily.
First make the caramel sauce. Place the sugar, 125ml water (4 floz) and the golden syrup in a heavy-based saucepan and heat over a high heat, stirring occasionally, until the syrup becomes clear.
Clip a sugar thermometer to the side of the saucepan and stop stirring. Cook the syrup until it comes to the boil. Continue to boil, gently swirling the saucepan occasionally, until the syrup just reaches 180C (356F) and caramelises. Keep an eye on the syrup because if the caramel burns you will not be able to use it.
Remove from the heat and very slowly spoon in the soya cream (be careful as it will spatter). Stir with a wooden spoon until the cream has combined and is nice and smooth. Stir in the sea salt. Cover and set aside. If the caramel begins to harden at any time, gently reheat it until it is pourable again.
Now make the brownies. Melt the chocolates and dairy-free spread together in a heat proof bowl. You can either do this over a simmering pan of water on the stove, making sure the bottom of the bowl does not touch the water, or in the microwave on high for about 1 1.2 minutes. Stir to make sure the ingredients have melted together.
Using a hand-held electric mixer on high, beat the eggs, sugar and vanilla for 30 seconds.
Gradually add the melted chocolate and dairy-free spread using a slow mixing speed until the mixture is well combined.
Gently fold in the sifted flour, xanthan gum, salt and cocoa powder through the creamy mixture using long folding motions – you don't want to beat the air out.
Spoon half the mixture into the lined baking tin, making sure it is evenly distributed, and level with the back of a metal spoon.
Spoon 6 dessert spoons of caramel on top of the mixture, being careful not to get them too close to the edge of the pan.
Using round bladed knife, very carefully swirl the caramel through the brownie mixture. Don't swirl too much, as you don't want the caramel to be mixed into the chocolate mixture, you just want a nice swirly pattern.
Bake in the oven for 35 minutes. You might think that they don't look cooked and be tempted to leave them in for longer, but don't – brownies continue to cook and firm up as they cool.
Leave the brownies to cool in the tin for 1 hour, if you can last that long! They will be easier to cut the longer you leave them. Sprinkle the cooked brownies with a few flakes of sea salt.
Remove the brownies from the tin, peel off the baking parchment, and leave to finish cooling on a metal cooling rack. Once cold, cut into squares using a large plastic knife if you have one. If you don't, use a sharp long knife heated in hot water between slices. This will stop you getting in a lovely gooey mess!
Tip:
You will have lots of caramel sauce left, but it can be stored in the fridge for up to two weeks, so why not use the excess to treat yourself to indulgent caramel coated puddings and drizzled ice creams. You will probably need to gently warm the caramel when you take it out of the fridge.