Joyce Weaver says: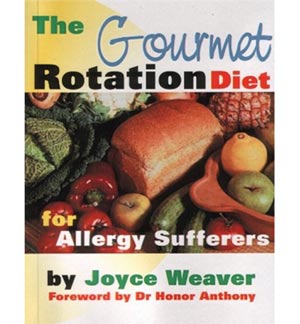 I wrote The Gourmet Rotation Diet for Allergy Sufferers
and first self published it in paperback in 2002. The foreword was written by the late Dr Honor Anthony, who at the time was a consultant to the Airdale Allergy Centre. She was also the president of the British Society for Allergy Environmental and Nutritional Medicine. She gave me a huge amount of advice on the contents of the book.
Writing this book was one of the hardest things I've ever done. I was a chronic fatigue sufferer and some days I could hardly get my head off the pillow. It felt like I had a permanent dose of flu. I got no help whatsoever from the NHS, but luckily I found a private allergy specialist.
Having discovered that I had multiple food and chemical allergies and received pioneering treatment, as well as radically changing my diet, I'm now much better, thank goodness. I wrote the book because I just wanted to help other people in similar situations to help themselves.
You can buy the book here on Amazon.
Joyce's book is far more than a recipe book and although we are quoting some of her recipes below they really only make total sense within the context of her suggested four-day rotation diet.
Rotation diets have proved very successful for those with multiple food sensitivities. As the number of foods that you can comfortably tolerate reduces it is all too easy to 'overdose' on that limited range of foods, thereby setting further intolerances and reducing your dietary possibilities yet further. But setting up a rotation diet that will minimise the calls on your already weakened digestive system by eating similar families of foods requiring similar digestive input together and 'rotating' them regularly you will both minimise your digestive load and add interest to your diet.
However, getting the whole thing underway can be a struggle, especially if you are not a natural cook or if you are already feeling unwell and short of energy. So Joyce's step b y step guidance will be very helpful and well worth the effort of reading her introductory material and studying her food lists and her very varied menu suggestions.
For those of you on specific exclusion diets (gluten, dairy, nut, egg etc) you may need to do a certain amount of substitution on some recipes but most will fit within your dietary guidelines. And if you think that you are going to be deprived, just look at her menu suggestions for day 2! And you get recipes for all of those plus for the other three days!! How good value is that...


BREAKFASTS FOR DAY TWO
Pigs Liver, Kidneys, Black Pudding and Bacon
Choice of Fruits of the day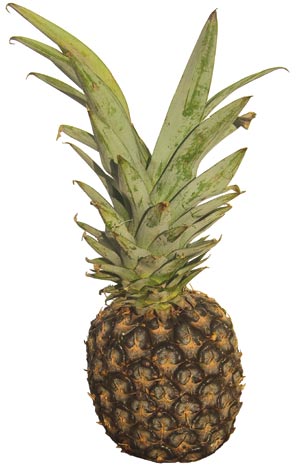 Gram Flour Pancakes with Maple Syrup
Pineapple Fritters (with Gram Flour)
Tapioca Pudding With Soya Milk

SOUPS/STARTERS FOR DAY TWO
Moules Marinière (Mussel Soup)
Oyster Soup
Angels on Horseback
Split Pea and Lentil Soup (Vegetarian)

LUNCHES/MAIN MEALS FOR DAY TWO
Roast Pork/Wild Boar
Pan-fried Pork Steaks/Wild Boar Steaks
Pork and Bean Casserole
Gammon And Pineapple
Mixed Grill of Pigs Liver, Kidneys, Black Pudding, Pork Chops and Bacon
Venison Casserole
Pan Fried Salmon with Cashew Nuts, Parsley and Coriander
Cod Roes
Grilled Pollack, Hake or Cod with Green Beans
Clam Stir- fry
Pot Roast Pheasant
Tofu and Lima Bean Salad, (vegetarian)
Layered Lentil Loaf,(Vegetarian)
Oven Baked Quail
Octopus Stir- fry

DESSERTS FOR DAY TWO
Mango, Pineapple, Grape, and Passion-fruit Salad
Mango & Tofu Dessert
Pineapple & Tofu Dessert
Pineapple Fritters
Tapioca Pudding With Soya Milk
Fruit Jelly made with Fruit Juices of the Day and Agar,Vegegel or Gelozone

SNACKS/OCCASIONAL TREATS
Sunita Halva, (Made with Sesame Seeds and Grape Juice, no additives and available in many health food stores)
Cashew Nuts and Dates
Pineapple Fritters
Gram Flour Pancakes with Maple Syrup
Carob Fruit Juice Jellies

BEVERAGES FOR DAY TWO
Black Indian or China tea
Mate tea
Fennel tea
Hot carob with soya milk
Filtered or mineral water
Grape juice
Pineapple juice
Mango juice
The juices listed should be very well diluted and taken as an occasional treat rather than on a regular basis.
Still or sparkling mineral water
To give you a flavour or her recipes we are including just three – from Day 3:


OAK SMOKED MACKEREL AND WILD RICE KEDGEREE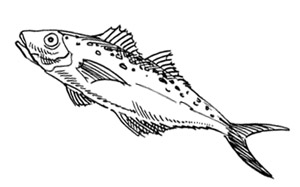 2 fillets of mackerel (cooked and flaked)
2 hard boiled eggs (diced)
8 oz (200g) cooked wild rice
4 oz (100g) feta or goats' cheese (grated)
4 oz (100g) mushrooms (sliced)
2 oz ( 50 g) sweetcorn
Freshly chopped tarragon and basil (to taste)
Sunflower or safflower oil

Cook the eggs, fish and the rice the night before and refrigerate to save time. Then next morning fry the mushrooms in a little oil. Add sweetcorn, rice, fish and diced eggs and warm through sprinkle over the cheese and herbs and continue to cook until cheese starts to melt and serve. Enough for 3-4 people.
PAN-FRIED CHICKEN WITH MUSHROOM AND HERB SAUCE

1 chicken breast per person
4 oz (100 g) flat mushrooms per person
Fresh basil and tarragon to taste
Live sheep or goats' milk yoghurt
Safflower or sunflower oil for frying

Pan fry the chicken breasts until golden and tender. Lift out of the pan and keep warm.
Add the washed and chopped mushrooms to the pan with the herbs and allow to sweat over a low heat to bring out the flavour. Continue cooking gently until the mushrooms start to brown. Add the yoghurt and stir well to make a creamy sauce. (If you sauce starts to curdle or separate, add an egg yolk beaten with a little more yoghurt and stir until the sauce thickens.) Pour over the chicken and serve with choice of vegetables from the days list.
FIG AND WALNUT CAKE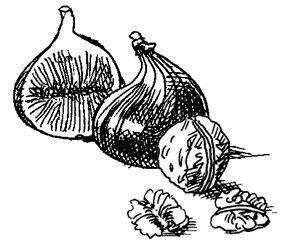 4 oz (100 g) maize flour (polenta)
4oz (100 g) brown rice flour
8 oz (200 g) beet sugar
8oz (200 g) sunflower margarine (dairy free)
4 free range eggs
4 oz (100 g) dried, unsulphured figs (soaked for about an hour)
4oz (100 g) chopped walnuts or pecans
1 raised teaspoonful cream of tartar
1 level teaspoonful bicarbonate of soda

Beat sugar and margarine together. Add eggs one at a time and
beat thoroughly. Sift together the flours and raising agents and add to the mixture. Add chopped figs and walnuts and divide mixture between two greased loaf tins. Decorate with more walnuts or pecans and bake in a moderate oven for approximately 30-35 minutes.
And an egg-free version:

EGG-FREE FIG AND WALNUT CAKE

4oz (100 g) maize flour (polenta)
4 oz (100 g) brown rice flour
8 oz (200 g) beet sugar OR 6oz (150 grams) runny honey
8oz (200 g) sunflower margarine ( dairy free)
1 raised dessertspoonful cornflour
4oz (100 g) dried figs (soaked overnight)
4oz (100 g) chopped walnuts or pecans
1 raised teaspoonful cream of tartar
1 level teaspoonful bicarbonate of soda
either rice milk, sheep or goats' milk or filtered water to slake down to cake batter consistency.

Sift dry ingredients into a bowl. Add sugar and margarine and rub together until the mixture is like breadcrumbs. Add figs and walnuts then pour in enough filtered water or your choice of milk to get a good cake batter consistency. Decorate with more walnuts or pecans and bake in a moderate oven for approximately 30-35 minutes.