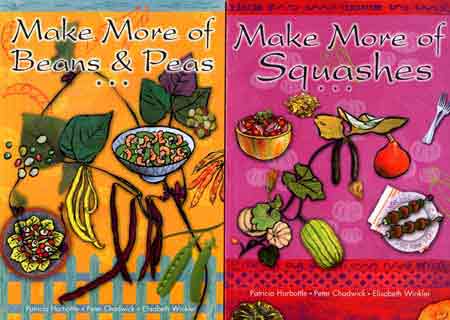 Make More of... books
by Patricia Harbottle, Peter Chadwick and Elizabeth Winkler

Strictly speaking the Make more of... series of books are not free-from but many of the recipes, de facto, are and many others could easily be adapted. What's more, they have all been devised by and old friend of Foods Matter, Patricia Harbottle, with whom Editor Michelle once ran a very successful catering business – so how could we not include them!

The books come in two parts – how to grow your squashes, beans and peas – and then how to cook them. Given the current concerns over food security, climate change, and global warming, anything which guides you towards culinary self sufficiency, especially when it is such deliciously tasty self sufficiency, is more than welcome.
The first two books in the series (more are planned, to include lettuces, brassicas, roots and more...) cost £8.99 each and are to be had from Amazon.
Broad Bean Paté
(from Make More of Beans and Peas...)

450g podded, elderly broad beans
1 clove garlic
* 1tsp Magic Masala (see below)
juice 1 lime
2 tbsp extra virgin olive oil
salt and freshly ground black pepper
Put the beans with the rest of the ingredients, apart from the salt and pepper, into a food processor and whizz until you have the desired consistency. You may want to leave it rough or process till smooth. Season to taste with salt and freshly ground black pepper.
* Magic Masala is a product that I can highly recommend. You can buy it and other spices from the New York Delhi Company. Failing that, you can make a homemade version by using a mixture of powdered mace, ginger, fenugreek, clove, cinnamon, coriander, cumin, turmeric, cardamom and chilli. The quantity of each spice rather depends on your taste, but use equal quantities of the ones you like and less of the others until you get the right mix.

Marinated beef and courgette skewers on coriander rice
(from Make More of Squashes...)
450g fillet, sirloin or rump steak
about 24 thick slices unpeeled courgette
Marinade:
2.5cm knob of finely grated ginger
2 stalks finely chopped lemon grass
2 tbsp dark wheat-free soya sauce
2 large crushed cloves garlic
1 tsp freshly ground black pepper
1 tsp sugar
2 tbsp rapeseed or sunflower oil
For the rice:
1 tbsp rapeseed or sunflower oil
2 large, finely chopped shallots
1 large finely chopped clove garlic
225g white basmati rice
4 thinly sliced spring onions
1 litre hot water
salt and freshly ground black pepper
lots of chopped fresh coriander

Trim some of the fat from the beef if necessary. Cut the meat into large cubes about 4cm square. Mix all the ingredients for the marinade in a large bowl and marinate the beef for 2–5 hours.
I use long metal skewers for this but if you want to use wooden skewers, soak them in cold water for 30 minutes – you may need two per person if they are short.
In a lidded frying pan, heat the rapeseed oil and stir-fry the shallots and garlic over a medium heat until golden. Add the rice and stir around until it is quite coated with the oil, shallot and garlic mixture then add about 550ml of hot water. Stir, then leave to simmer until the rice has absorbed all the water. From now on add hot water as necessary, risotto style, until the rice is done. Stir in the spring onion, seasoning and coriander, put the lid on the pan and keep warm while the skewers cook.
Heat the grill to medium hot. Thread the courgette slices and beef alternately onto the skewers, starting and ending with a slice of courgette and packing the skewers tightly. Brush the skewers with the marinade and grill for about 3 minutes on each side until nicely browned and cooked to your liking.
Serve on a bed of the rice.