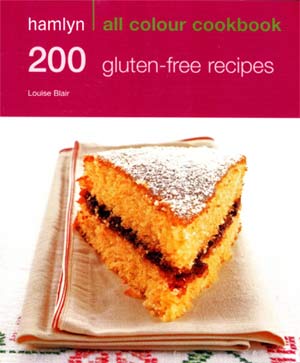 Hamlyn's 200 gluten-free recipes
by Louise Blair


At £4.99 for 200 recipes, this little book has to be good value and although we have not actually had a chance to test any of the recipes, it is full of great sounding ideas for gluten (although not dairy or egg)-free dishes – and every recipe is illustrated!
Ones that appealed to us were: Toasted veggie and quinoa salad, Gruyere and olive drop scones (see below), Ricotta and spinach tart, Harissa salmon with sweet potato, Courgette, beetroot and feta fritter, Thai vegetable, tofu and rice soup, Polenta mini pizzas, Fish cakes and fennel mayonnaise, Nutty seed loaf, Pizza scrolls and Bite-sized mini mince pies. But, as you can imagine, there are lots more to choose from! There is also a brief but useful introduction to g-f cooking and ingredients.
Available for £4.90 with free UK delivery from Amazon.
Gruyere and olive drop scones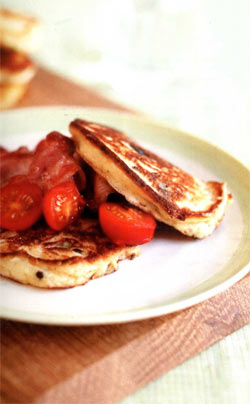 250g/8oz ricotta cheese
150ml/1/4 pint milk
3 eggs, separated
100g/3 1/2oz sieved rice flour
1 tsp gluten-free baking powder
1 tbsp chopped chives
12 pitted olives, quartered
50g/2oz Gruyère cheese
2 tbsp grated Parmesan cheese
15g/1/2 oz butter
To serve (optional) – grilled bacon rashers
Beat together the ricotta , mild and egg yolks in a large bowl.
Sift together the flour and baking powder in a separate bowl, then fold in the ricotta mixture.
Whisk the egg whites in a clean bowl until they form stiff peaks, then fold in the ricotta mixture with the chives, olives, Gruyere and Parmesan.
Heat a little of the butter in a nonstick frying pan, add spoonfuls of the mixture and fry for 1–2 minutes on each side. Transfer to a serving plate and keep warm while frying the remainder of the mixture, adding the remaining butter to the pan as necessary.
Serves with crispy grilled bacon and halved cherry tomatoes if liked.
For pear and cinnamon drop scones, make the drop scone mixture as above, omitting the chives, olives and cheeses.
Peel, core and roughly chop 2 ripe pears and stir into the mixture with 2 tbsp caster sugar and 1 tsp ground cinnamon.
Cook as above and serve with a drizzle of honey and a spoonful of light creme fraiche.