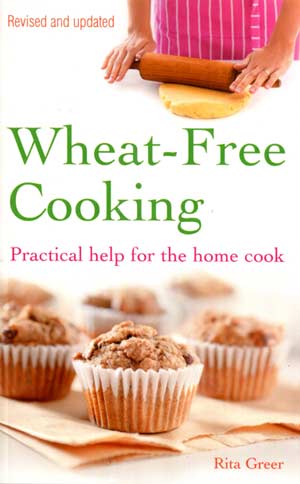 Wheat-free Cooking by Rita Greer
Rita Greer is truly the doyenne of 'freefrom' cooks as she has been writing for people on what used to be known as 'special diets' since the 1970s. Wheat-free Cooking is a revised and updated version of a well loved and reliable everyday cookbook covering simple everyday main meals, soups, gravies, dressings, puddings, cakes and breads plus a useful introduction and an excellent table of nutrients from wheat-free sources.
Some delightfully retro (1980s?) recipes – Avocado slices with orange segments, Parma ham with fruits, Apple snow and Jelly trifle – rub shoulders with the classics – Nut Rissoles, Cauliflower and broccoli cheese and Shepherd's Pie. We chose a good old fashioned Dundee cake – see below.
An excellent staple to have on your cookery shelves – Wheat-free Cooking by Rita Greer is published by Souvenir Press at £9.99 adn you can buy it here on Amazon.
Dundee Cake
Rye, barley and oat flours are rather too heavy for cakes and do not bind well. Buckwheat and cornflour don't bind at all so won't hold up the fruit. Here is a moist fruit cake very similar in appearance, taste and texture to the traditional wheat flour version. It freezes well so slices can be wrapped individually and stored in the freezer until required. It is as good traveller that makes a popular lunchbox snack.
Sunflower oil for greasing
65g/21/2 oz wheat-free margarine
350ml (1/4 pint) orange juice
85g / 3oz cored eating apple
40g/ 11/2 oz fresh carrot
15g / 1/2 oz instant yeast
1 tbsp sugar
Flour blend:
35g / 1oz soya or gram flour
115g /4 1/2 oz ground rice
1 level tbsp maize flour or cornflour
1 level tsp wheat-free mixed spice
50g /2 oz ground almonds
Fruit:
250g / 8oz dried mixed fruit (washed in a colander and drained)
grated rind 1 lemon and 1 orange
50g / 2oz glace cherries, well rinsed
Decoration:
1 oz /25g split almonds
Grease a 15–16cm/ 6–7 inch round cake tin. Put the margarine and fruit juice in a small pan and put over a low heat to melt the fat.
Take off the heat and leave until lukewarm, then pour into a liquidiser.
Cut the apple and carrot into slices and add to the liquid. Blend to a smooth, thick batter.
Mix the yeast and sugar with the flour blend ingredients, in a large bowl. Pour in the mixture from the liquidiser and mix with a wooden spoon. Stir in the dried fruits and rinds. Spoon into the prepared cake tin, decorate with the split almonds and bake in a preheated oven (180C/350F/ gas mark 4) for about an hour. Test to see if it is done with a skewer. If it needs a little longer, cover with greaseproof paper and lower the heat. Bake a few minutes more. Leave to cool in the tin. When quite cold store in an airtight container and eat within 4–5 days.