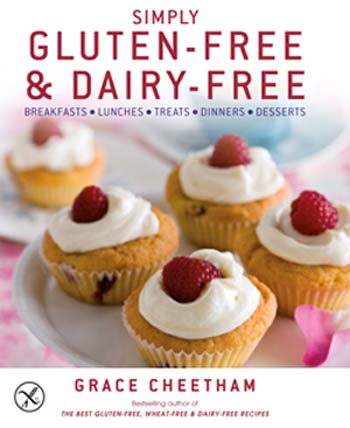 When Grace sent us the proofs of her new cookbook and asked us for our reaction I wrote back:
'I just love Grace's recipes – her enthusiasm, her exciting use of unusual ingredients, especially grains, her clear techniques and directions. The book will be a delight to cook from – whether you're on a free-from diet or not!'

Now that the book is out, I can only agree with what I said earlier – just adding that her recipes are now enhanced by some really lovely and very mouth watering pictures.

The book incudes an unusual selection of breakfast treats, lots of quick and simple recipes for main courses – in line with Grace's new need, now that she has a small child to incorporate into her daily regime, for recipes to be simple and quick!
However that does not mean that she has ignored all of those baked and sweet treats that she does so well – the Chocolate fondant recipe quoted below, Blueberry and lime cheesecake, pear and almond frangipanne tart, butternut squash scones, apricot yogurt and honey cake... Enough to keep you baking and happy for weeks to come!
Simply gluten-free and dairy-free is published by Duncan Baird Publishers at £14.99 – and worth every penny. You can buy it here on Amazon.
And if you want to keep up with Grace on a more regular basis you can also subscribe to her blog at www.glutendairyfree.co.uk
Prawn, Broad bean and Avocado Brushchetta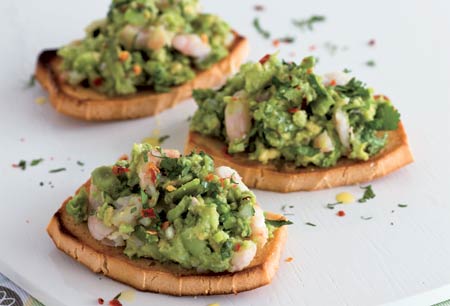 Serves 4
Make the most of delicious fresh broad beans when you can. If they are not available you could use frozen broad beans or edamame beans.
1kg/2lb 4oz fresh broad beans, podded or 200g/7oz frozen beans
1 avocado
350g/12ozs cooked prawns, chopped
1 tbsp finely chopped mint leaves, plus a few sprigs for cooking
1 tbsp finely chopped basil leaves
1 small handful of coriander leaves
1 tbsp lime juice
2 tbsp olive oil
scant 1/2 tsp crushed chilli flakes
2–3 garlic cloves, peeled
12–16 sliced of white bread (see below), toasted
Put the beans and the mint sprigs in a steamer and steam, covered, over a high heat for 4–5 minutes until tender. Remove and discard the mint.
Rinse the beans under cold running water, then drain well and transfer to a bowl. Remove and discard the skins from the beans by squeezing the skins until they pop. Mash the beans coarsely. Peel the avocado, remove and discard the stone, then mash the flesh coarsely and stir into the beans. Add the prawns, chopped herbs, lime juice, olive oil and chilli flakes and mix well. Season to taste with salt.
Rub the garlic into the toasted bread slices and top with a spoonful of the prawn mixture. Serve immediately.
White Bread – makes 1 loaf, approx, 16 slices
120g/41/4 oz potato flour
50g/13/4 oz gram flour
50g/13/4 oz maize flour
150g/51/2 oz rice flour
1 tsp sea salt, crushed
1 tps fruit sugar or caster sugar
1 tsp gluten-free baking powder
1 tsp xanthan gum
1 tbsp active dried yeast
2 tsbp olive oil
dairy-free margarine for greasing
Sift the flours, salt, sugar, gluten-free baking powder, xanthin gum and yeast into the bowl of a food processor with the dough blade attached and blend to mix together. Add the olive oil and blend again, then add a scant 400ml/14 floz warm water and process for 10 minutes to aerate the dough. It will be sticky.
Transfer the dough to a bowl, cover with clingfilm and leave to rise for 30 minutes.
Preheat the oven to 200C/400F/ Gas mark 6 and lightly grease a 450g/1lb loaf tin with dairy-free margarine. Spoon the dough into the tin and smooth the surface with the back of a metal spoon.
Bake for 45–50 minutes until the bread is golden brown. Turn out of the tin and tap the bottom. If it sounds hollow, it is done. If not, return the bread to the tin and bake for another 5 minutes, then test again to see if it is done. Transfer to a wire rack to cool.
Chocolate fondant
This is melt-in-the-mouth delicious! when you take your first spoonful you'll find a rich, gooey chocolatey centre inside.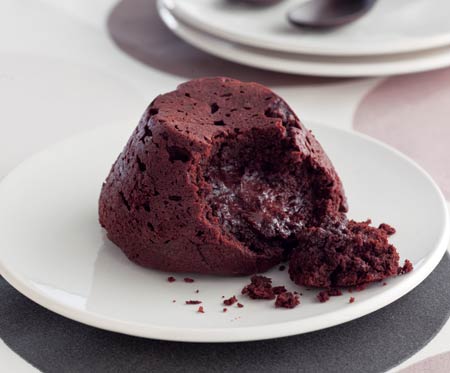 Serves 4
100g/31/4 oz dairy-free margarine, plus extra for greasing
200g/7oz dairy-free dark chocolate, 70% cocoa solids, chopped or broken into pieces
2 eggs plus 2 egg yolks
100g/31/2 oz s fruit or caster sugar
2 tbsp rice flour
heaped 2 tbsp gram flour
Preheat the oven to 180C/350F/Gas mark 4 and grease four 175ml/51/2floz pudding moulds with dairy-free margarine. Put the chocolate in a heat proof bowl and rest it over a saucepan of gently simmering water, making sure that the bottom of the bowl does not touch the water. Heat, stirring occasionally, until the chocolate has melted. Leave to cool for 10 minutes.
Meanwhile, beat the eggs and egg yolks together in a large bowl, using an electric mixer. Add the sugar and beat until thick and creamy. Using a large spoon, carefully fold in the melted chocolate mixture. Sift in the flours and fold till well mixed.
Divide the mixture into the pudding moulds and bake for 12–15 minutes or until risen and firm to the touch. Serve immediately.