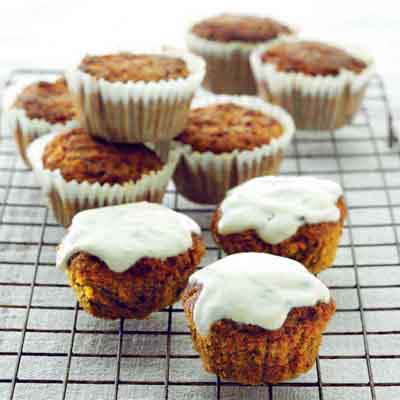 FreeFrom carrot and beetroot cupcakes
The best gluten-free, wheat-free and dairy-free recipes
by Grace Cheetham
Grace Cheetham, a life long allergy sufferer, has commissioned and edited cookery books for many years - and now she puts her combined experience of cookery writing and cooking for allergies to good use in an excellent, comprehensive free-from cook book.
A wide range of interesting, but easy to follow, recipes covering everything from breakfast smoothies to green curry, gnocchi and raspberry soufflés are made even more tempting by some luscious photographs from William Lingwood. The book also includes a short introduction with some very useful basic breads, sauces, stocks and seasonings.
An excellent Christmas present for anyone just starting out on free-from cookery - or for anyone needing a few ideas to spice up their jaded free-from cookery palette!

Anyone seeking further inspiration should check Grace's website at www.allergyfreecook.com or you can buy the book here on Amazon.
Carrot and Beetroot Cupcakes

Gluten,wheat & dairy free
Makes 10 cupcakes
Preparation tine 10 minutes; cooking time 15-20 minutes
150g dairy-free margarine, softened
125g fruit sugar
3 eggs, beaten
75g rice flour
75g gram/chick pea flour
1 tsp gluten-free baking powder
1 tsp bicarbonate of soda
1 tsp ground cinnamon
200g carrots, peeled and grated
100g beetroots, peeled and grated
100g soya yogurt
2 tbsp clear honey
1 Preheat the oven to 180C/350F/Gas Mark 4. Arrange 10 paper cup cakes in a muffin tin.
2 Using a hand held whisk, beat the margarine and sugar together in a large mixing bowl until light and fluffy.
Gradually beat in the eggs, a little at a time, until well mixed.
3 Sift the flours, baking powder, bicarbonate of soda and ground cinnamon into the mixture. Then quickly fold
them in, followed by the grated carrots and beetroots, using a metal spoon. Make sure the mixture is well blended but take care not to overmix.
4 Divide the mixture between the cup cake cases and bake in a hot oven for 10 minutes, then cover them with a sheet of non-stick baking parchment to prevent them from over-browning and bake for a further 5-10 minutes until well risen and a skewer inserted into the middle comes out clean. Take the cupcakes out of the oven,
transfer to a wire rack and leave to cool completely.
5 When the cupcakes have cooled, prepare the topping. Using a whisk or hand held electric Blender, whisk together the yogurt and honey ina bowl until smooth. Spread a little of the topping over each one.

Return to cookery writers home