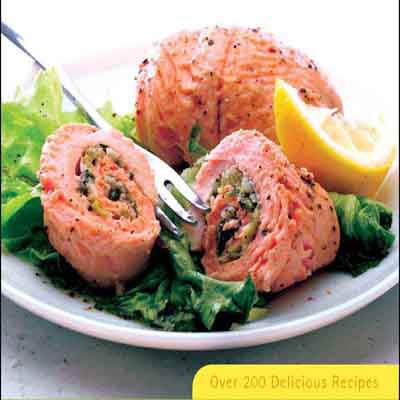 Cover of the Complete Guide
The Complete Guide to Gluten-free and Dairy-free Cooking
by Glenis Lucas

Glenis Lucas' book is, indeed, a complete guide to gluten and dairy- free cooking - 200 excellent recipes covering every possible eating occasion or cooking need from homely soups (butternut squash or nettle, leek and potato), through useful breads, biscuits and cakes, a great range of vegetarian dishes (black-eyed bean and lentil stew, tempeh vegetarian kebabs), dinner party specials (lamb with redcurrant sauce and black grapes, tiger prawn curry or stir-fry duck with plum and orange sauce) and desserts (apple, sultana and lime pudding, orange and chocolate terrine or nectarine and mango milk jelly) to lovely jellies (see opposite) - and back to breakfast cereals.
Recipes are given for four, or occasionally, two people and are detailed but easy to follow - and include preparation times to allow you to plan ahead.
A short introduction and resource section cover all the basics
including some good advice on getting the full spectrum of nutrients while on a restricted diet.

The Complete Guide to Gluten-free and Dairy-free Cooking
by Glenis Lucas is published by Watkins Books @ £9.99
You can buy it here at Amazon.
Gammon and mushroom with sage apple jelly

This is a really quick meal if you have a ready-made jar of Sage Apple Jelly. Some gammon is rather salty and could be soaked for an hour before cooking. Shitake mushrooms are rich in calcium, phosphorus and vitamin D, which helps the body absorb calcium from the diet.
Serves 2
1 large thin slice of gammon weighing about 350g
1/2 tbsp sunflower oil
5-6 medium shitake mushrooms, sliced thinly
(or a 1cm slice of cooking apple)
4 rounded tbsp sage apple jelly (see opposite)
freshly ground black pepper
2 tsp arrowroot powder
Preheat the oven to 180C/350F/Gas mark 4.
Trim the fat from the gammon. Over a high heat, fry in oil briefly on each side to seal in the juices. Turn into a large ovenproof dish. Scatter the mushrooms (or lay the apple slice) over the meat. Spoon over the sage apple jelly. Season with pepper. Cover with a close-fitting lid of foil between the dish and the lid. Cook in the oven for 20-24 minutes or until cooked.
Turn the sauce and mushrooms into a small pan. Thicken with the arrowroot mixed with a little of the cooled sauce.Bring to the boil, stirring.
Simmer for 1 minute, then serve.
Sage Apple Jelly
A delicately flavoured jelly which complements the gammon
(opposite) but is also excellent with other cooked or cold meats.
500g cooking apples, crab apples or sound windfalls
440ml water
130ml white wine vinegar
2 tbsp lemon juice
21/2 heaped tbsp fresh sage leaves
425-455g preserving or white granulated sugar
Wash and roughly chop the apples, including peel and cores) into large pieces.
Place them in a large saucepan with 440ml water, the vinegar, lemon juice and half the sage leaves, bruised and roughly torn.
Bring to the boil, cover and simmer for 5-15 minutes or until the apples are soft and pulpy.
Pour into a scalded jelly bag without squeezing. If you squeeze the jelly will become cloudy.
For every 570ml of juice use 455g of sugar.
Return the juice plus the sugar to the clean saucepan and place a preserving thermometer in the saucepan. Heat gently, stirring until the sugar has dissolved.
Bring to boiling point and boil rapidly at setting point (105C/220F) for 4-5 minutes.
Do the 'crinkle' test. (Drop a small amount of juice onto a chilled plate. Leave until it is quite cold then push a finger through it. It will crinkle thickly if the setting point has been reached.)
If you don't have a thermometer, boil rapidly for
7-8 minutes then do the crinkle test. If it doesn't crinkle, boil for a few minutes more and test again.
Cut remaining sage leaves into small pieces and mix into the jelly.
Allow it cool slightly so that a skin forms (this will allow the sage to be suspended evenly throughout the jelly).
Pour into small, warm sterilised jars under 450g
to ensure a good jelly set. It will store for about a year.
(To sterilise jars, place in a clean pan with lids, cover with hot water, bring to the boil and boil rapidly for 10 minutes. Alternatively place jars in a 170C/ 325F/Gas mark 3 oven for 10 minutes.)
Return to cookery writers home