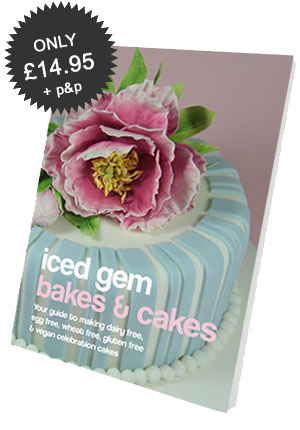 Iced Gem Bakes and Cakes
by Gemma McFarlane

Gemma, whose amazing cakes we wrote about a few months ago – see Iced Gem Cakes celebration cakes – has now produced a recipe book explaining exactly how to make both her delicious gluten and dairy free cakes, but – more trickier – how to create some of her wonderful icing designs!
The book include s six dairy-free recipes, 16 gluten and wheat free recipes (which cold also be dairy free), and 10 vegan recipes – plus.... six cake filling and six modelling pastes.
Excitingly , for those who have always fancied their hand with a piping bag, she gives you 16 sets of instructions for celebration cakes icing from making a peony from a vegan,gluten-free flour paste to making a cake of children pushing a giant snowball!!
And all for a mere £14.95 +P&P
To find our more or to buy the book go to
www.icedgembakes.co.uk or buy it here on Amazon.